Today we have the pleasure of interviewing Amy Plum. I (Daisel) am a huge fan of her. I absolutely loved her books and I am really excited about her new book After The End. As some of you might now we are going to be attending to BEA (Book Expo America) this year and she is going to be one of the authors attending! You already know that I am going to be standing first in that line. I will leave you now with this interview. I hope you all enjoy it.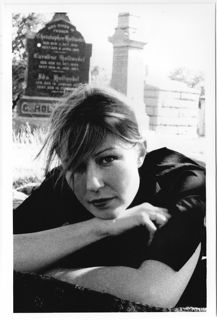 Amy Plum is the author of DIE FOR ME, a YA series set in Paris. The first three books—DIE FOR ME, UNTIL I DIE, and IF I SHOULD DIE—are international bestsellers, and have been translated into eleven different languages. The fourth book is an eNovella, entitled DIE FOR HER. The first book of Amy's new series, AFTER THE END, releases in May 2014. Amy grew up in Birmingham, Alabama before venturing further afield to Chicago, Paris, London and New York. An art historian by training, she can be found on most days either daydreaming or writing (or both) in a Parisian café.
1. What inspired you to write your first book?
My very first book, which was never published, was the story of me living in the French countryside. It was comedy memoir – not fiction at all! And my inspiration was the desire to share my experiences with other people. It was the beginning of my story-telling, maybe made easier by the fact that all of the stories were true.
2. It has been close to a year since the release of the last book in the Revenants series. How did you felt when that trilogy was completed?
That was a very strange feeling. On the one hand, it was a relief. I never know how a story is going to go until I write it down. (I don't plan the plot ahead of time.) So I was just hugely satisfied that the story came together in a dynamic and conclusive way. On the other hand, it was hard to say goodbye to all of my characters. I kept thinking about them on a daily basis for a long time.
3. What can you tell us about your new book, After The End?
AFTER THE END is a huge departure from the revenants series. It is still a story about a teenage girl, and contains a magical element, but takes place in a completely different setting. And Juneau, the main character, is very different from Kate. However, both are books about surviving and finding your own strength. So I guess that while the external trappings of the story are nothing alike, the core of the storytelling comes down to the same central idea.
4. If you could be a character in any novel you've ever read or a character in one of your books, who would you be and why?
I would be Charlotte in the DIE FOR ME series. She has been suffering in silence for so long, and now that she's come into her strength and has found the love of her life, her story is only going to get better and better.
5. What do you when you are not writing?
A lot of social media promoting my books. But for fun, hanging out in Paris with friends or by myself, eating great food, seeing great art, and doing fun activities with my kids.
6 Can you tell us about your challenges in getting your first book published? and do you have any advice to give to aspiring writers?
My first book was actually never published. However, it got me my agent. That was the first big challenge. I cover how I did this in a blog post:
HERE
As far as advice to aspiring writers: read a lot. If you don't have Story integrated into who you are, you won't be able to create it. I also highly recommend Stephen King's book ON WRITING. It has a ton of valuable advice.
Thanks so much for interviewing me!
And coming to a shelf near you on May 6th, 2014.