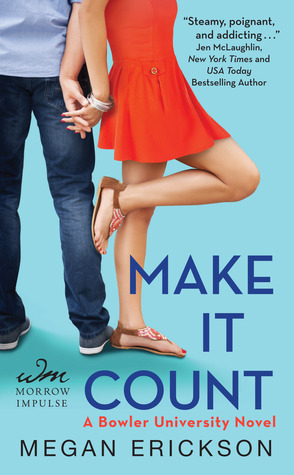 Title:
Make It Count
Author:
Megan Erickson
Publisher:
William Morrow University
Release Date:
June 3rd 2014
Pages:
221
Format:
eARC
Source:
Edelweiss
Age Group:
New Adult
Genre:
Contemporary Romance
Kat Caruso wishes her brain had a return policy, or at least a complaint hot-line. The defective organ is constantly distracted, terrible at statistics, and absolutely flooded with inappropriate thoughts about her boyfriend's gorgeous best friend, Alec…who just so happens to be her brand new math tutor. Who knew nerd was so hot? Kat usually goes through tutors like she does boyfriends—both always seem to bail when they realize how hopeless she is. It's safer for her heart to keep everyone at arm's reach. But Alec is always stepping just a little too close. Alec Stone should not be fantasizing about Kat. She's adorable, unbelievably witty, and completely off limits. He'd never stab his best friend in the back… But when secrets are revealed, the lines of loyalty are blurred. To make it count, Alec must learn messy human emotions can't be solved like a trigonometry function. And Kat has to trust Alec may be the first guy to want her for who she is, and not in spite of it.
I swear every time I get approved by Ed, (my nickname for edelweiss) it feels like Christmas morning.
Kat has always struggled with reading and writing, problem is she doesn't know why. All she knows is that she's not like everyone else so she builds up walls so no one can hurt her with words or get too close to see the truth. And it's worked all her life, until Alec Stone. Kat gets thrown a curve-ball when her new tutor happens to be Alec, the hot nerd, and also her boyfriend's best friend.
Alec sees the real Kat, not the facade she puts up for others. He knows she's more than a pretty face and I couldn't help but root for him. But Alec also has his own problems like making sure he doesn't cross the line with Kat. He's been burned before and doesn't want to be THAT guy.
Kat and Alec have officially been named two of my favorite characters in the New Adult genre. Seriously adore them to pieces. Kat was so bubbly, fierce; she fought for her future and that was just so awe-inspiring. Oh sugar snacks, I've always liked the typical alpha male but man like Tara, Kat's best friend, said "Nerd is the new black." I couldn't agree more. There's just something sexy about a guy who's not only smart but sweet and doesn't play games.
Both Kat and Alec have their "what the fxxk are you doing" moments but even then it was never a dull moment with those two. The inner monologue and conversations they had were the best I've read in decades.
"Yep I'm following you around so I can get poked in the ribs by your bony elbows."
"Because nothing said 'I might have finally realized my calling' like a thousand-calorie caffeine jolt."

Slight spoiler ahead.
Highlight the paragraph if you want to read it.
Not only did Megan bring the funny and sexy times but she also brought an issue that a lot of kids, teens, adults, go through. A few of my cousins have dyslexia and I never really paid much attention to it because they were getting the help they needed and never really talked about it. But reading about dyslexia through Kat was eye opening, I feel like I have a better knowledge of what my cousins go through and maybe they'll be more open with me about it. And when my cousin turns 18, like in 4 more years, I'll let her borrow my signed copy of Make It Count (so I hope you have signings Megan.)
Make It Count meant a lot to me, its everything I have ever wanted in a book and more. I love reading stories that have relatable characters and Megan made that happen especially with Kat Caruso who feels like a friend to me. I know that sounds weird but that's how amazing the writing is. Plain and simple, buy this book when it hits stores, trust me IT'S WORTH EVER PENNY!
Memorable quote that will always stick with me:
"Don't compare me to you. We're totally different people and we each have our own strengths and weaknesses."