Welcome to today's stop in the Beautiful Oblivion blog tour, hosted by Atria Books. I am so excited to share my thoughts on this amazing book. Make sure to click HERE to check out more about Beautiful Oblivion, Jamie's other books and the awesome giveaway.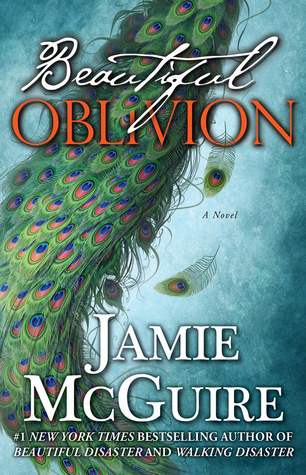 Title
: Beautiful Oblivion (Maddox Brothers #1)
Author
: Jamie McGuire
Publication Date
: July, 1, 2014
Publisher
: Atria Books
Pages
: 336
Source
: Publisher/ ARC
Age Group
: Adult
Genre
: Contemporary Romance
The Beautiful Disaster and Walking Disaster phenomenon continues in the first heart-pounding new adult romance in The Maddox Brothers series.

Fiercely independent Camille "Cami" Camlin gladly moved on from her childhood before it was over. She has held down a job since before she could drive, and moved into her own apartment after her freshman year of college. Now tending bar at The Red Door, Cami doesn't have time for much else besides work and classes, until a trip to see her boyfriend is cancelled, leaving her with a first weekend off in almost a year.

Trenton Maddox was the king of Eastern State University, dating co-eds before he even graduated high school. His friends wanted to be him, and women wanted to tame him, but after a tragic accident turned his world upside down, Trenton leaves campus to come to grips with the crushing guilt.

Eighteen months later, Trenton is living at home with his widower father, and works full-time at a local tattoo parlor to help with the bills. Just when he thinks his life is returning to normal, he notices Cami sitting alone at a table at The Red.

As the baby sister of four rowdy brothers, Cami believes she'll have no problem keeping her new friendship with Trenton Maddox strictly platonic. But when a Maddox boy falls in love, he loves forever—even if she is the only reason their already broken family could fall apart.

In the first installment of the Maddox Brothers books, readers can experience the rush of reading Beautiful Disaster for the first time, all over again.
I have a confession to make, this is my first Maddox brothers' book I've read. I know, what a loser. Even though I have all of the books, I still have them there, staring at me asking me to finally read them. Well, now that I have read Beautiful Oblivion, I NEED MORE!!! So stay tuned for my reviews on the other books, because I will be reading them real soon. I can't wait to start them!
It's going to be hard to write this review without saying anything spoilery, so I will do my best, so please don't hate me if I am a little vague. LOL You just have to make sure you read Beautiful Oblivion so you can understand what I am talking about. Plus, my life will be in danger if I slip and I value my life. LOL
This book was AMAZING!! Wow! Can these Maddox brothers be any hotter?! Trent is just.....PERFECT! Excuse me while I go and fan myself. He is tough, sweet, hot, sexy, and absolutely adorable! One thing I really love about Beautiful Oblivion is that its not just another hot romance book, it's so much more. It's like the pages come to life and I am watching a movie with every page I turn. Jamie's writing is amazing, as you know, and once you start reading Beautiful Oblivion, you just won't be able to stop. Believe me, I was sneaking to the bathroom at work just so I could read a chapter or two. Hopefully, no one from work reads this review. lol
Cami is equally awesome. I love her character. She is feisty and isn't afraid to speak her mind. I admire that in female protagonist. She tries to fight her feelings for Trent, but soon realizes that you just can't get away from a Maddox brother. Once they enter your heart, there is no coming back. And that goes for them too. These brother's are tough on the outside, but soft in the inside. But Cami is keeping a secret from Trent. One HUGE secret. Oh, and did I mention the HUMONGOUS plot twist??!!! I so did not see that one coming. Bravo, Jamie, bravo.
So if you are a huge Jamie McGuire fan, I STRONGLY suggest you pre-order Beautiful Oblivion right now. You will instantly fall in love with it! I promise.