Title:
The Kiss of Deception
Author:
Mary E. Pearson
Publisher:
Henry Holt and Co. (BYR)
Release Date:
July 15th 2014
Pages:
492
Format:
eARC
Source:
Net Galley
Age Group:
Young Adult
Genre:
Fantasy
In this timeless new trilogy about love and sacrifice, a princess must find her place in a reborn world. In a society steeped in tradition, Princess Lia's life follows a preordained course. As First Daughter, she is expected to have the revered gift of sight—but she doesn't—and she knows her parents are perpetrating a sham when they arrange her marriage to secure an alliance with a neighboring kingdom—to a prince she has never met. On the morning of her wedding, Lia flees to a distant village. She settles into a new life, hopeful when two mysterious and handsome strangers arrive—and unaware that one is the jilted prince and the other an assasin sent to kill her. Deception abounds, and Lia finds herself on the brink of unlocking perilous secrets—even as she finds herself falling in love.
When I read the synopsis, I thought "this looks good. Meh, I'll get over the love triangle, I'm pretty sure I know who the princess will like more." First off, this book isn't about a love triangle. No way in hell. Yes, there's two guys vying for Lia's attention and all but it's so much more than that.
To outsiders it would look like Lia is your typical royal but that is far from the case. Lia is smart, cunning when need be, knows how to throw a knife, and isn't afraid to get dirty. Things normal princesses shouldn't or aren't suppose to do. Oh and there's also that pesky little responsibility of being a first daughter; the one where she has a gift. Or so people believe. They call it Siarrah.
So of course when you're told you'll be marrying some prince, the first thing you do is run. I mean who wouldn't. Lia could be marrying a troll for all she knows.
FYI, Lia is now my new favorite main character, I love her and everytime she helped out her friend I wanted to jump in the book and be all like AWWWW Lia you're great. Yup I'm girl crushing on Lia. And then the way she handles herself is freaking awesome. She's not one to stand down as you can see . . .
"You've already been gently warned once, sir. The next time, instead of a wet lap, I'll be planting these mugs in your thick skull."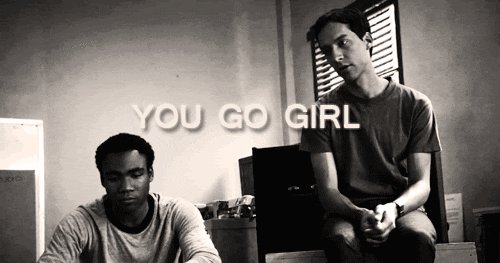 Nothing is as simple as it seems, not by a long shot. The prince and assassin, OH MY GAWD! Be prepared for one of the greatest twist in all of history. The author does something 3/4 of the book that leaves you like...
I'm still reeling from said twist. I thought there was this big typo and I had to go back a few chapters but nope there wasn't any typos. I was just that shocked!
The Kiss of Deception is about people facing choices they made and coming to terms with the aftermath. I recommend this book to EVERYONE, especially those who are fans of fantasy. You won't be disappointed in this tale of friendship, betrayal, murder and a wee bit of romance. Bring on book two!