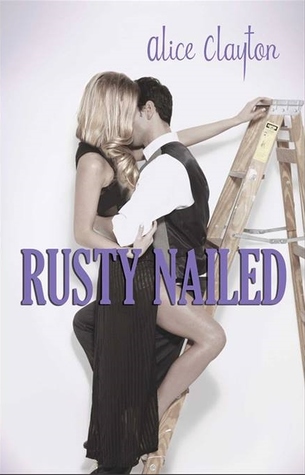 Title
: Rusty Nailed
Author
: Alice Clayton
Release Date
: June 24th 2014
Publisher
: Gallery Books
Pages:
320
Format:
eARC
Source
: Publisher
Genre
: Contemporary - Romance
In this sequel to Wallbanger, the second book in the Cocktail series, fan favorites Caroline and Simon negotiate the rollercoaster of their new relationship while house-sitting in San Francisco.

Playing house was never so much fun—or so confusing. With her boss on her honeymoon, Caroline's working crazy long hours to keep the interior design company running—especially since she's also the lead designer for the renovation of a gorgeous old hotel on Sausalito. So with her hotshot photographer boyfriend gallivanting all over the world for his job, she and Simon are heavy-duty into "absence makes the heart grow fonder" mode. Neither has any complaints about the great reunion sex, though! Then Simon decides he's tired of so much travelling, and he's suddenly home more. A lot more. And wanting Caroline home more, too. Though their friends' romantic lives provide plenty of welcome distraction, eventually Caroline and Simon have to sort their relationship out. Neither wants "out of sight, out of mind," but can they create their own happy mid-ground cliché?

USA TODAY bestselling author Alice Clayton delivers another delicious, frothy cocktail of a book, shaking up her characters, stirring in laugh-out-loud humor, and serving sizzling romance straight up!
The famous Wallbanger is finally back! When I first heard that Clayton had decided to write a sequel to the incredible master piece that is Wallbanger I was instantly excited because hello we get more of the epicness that is the magical duo known as Caroline and Simon! Yet I was somewhat hesitate because A) I loved Wallbanger. Like passed the point of obsession. ;) and B) Even though I tried not to, I did end up putting my expectations a bit higher than usual.
Caroline and the entire gang is back! We are well into a year or so since Caroline and Simon got together. I loved that we get a better insight into the secondary characters. I got a lot of laughs from their craziness.
Jillian is marry Benjamin and than heading off to an extended honeymoon. With no return date insight she leaves Caroline in charge. This in turns means that Caroline will becoming a ghost. Getting buried under paper work, having no time to hang out with Mimi and Sofia-- much less getting to spend time with Simon. Now may not be the best time for Simon to take some time off work, but in the end he does. He's now spending a lot of time at home and that's proven to be quite difficult. She isn't really use to him being home so much and she won't feel bad for working some much because one she loves it and two he was technically suppose to be gone.
Even though technically Simon was home more, I felt like he was messing more than half the time. I can't quite put my finger on it, but I didn't feel as connected to him as I did during Wallbanger. I'm still in an in-between phase where I don't know where I stand with Rusty Nailed. In part Clayton did a magnificent job of capturing the essences of what I loved from Wallbanger, but in this one it took on a bit of a more serious side. It's hard to hit the nail in the same spot twice, but even though I did have a tiny issue with Rusty Nailed I did find myself enjoying it.