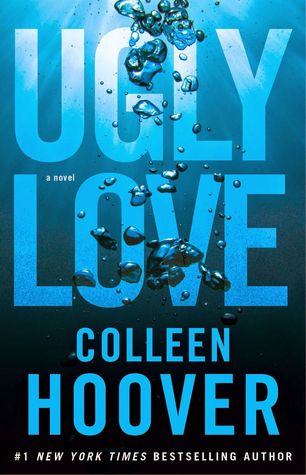 Title
: Ugly Love
Author
: Colleen Hoover
Publication Date
: August 5, 2014
Publisher
: Atria Books
Pages
: 336
Source
: e-ARC/Publisher
Age Group
: New Adult
Genre
: Romance
#1 New York Times bestselling author Colleen Hoover returns with a new heart-wrenching love story.

When Tate Collins meets airline pilot Miles Archer, she doesn't think it's love at first sight. They wouldn't even go so far as to consider themselves friends. The only thing Tate and Miles have in common is an undeniable mutual attraction. Once their desires are out in the open, they realize they have the perfect set-up. He doesn't want love, she doesn't have time for love, so that just leaves the sex. Their arrangement could be surprisingly seamless, as long as Tate can stick to the only two rules Miles has for her.

Never ask about the past.

Don't expect a future.

They think they can handle it, but realize almost immediately they can't handle it at all.

Hearts get infiltrated.

Promises get broken.

Rules get shattered.

Love gets ugly.
I honestly do not know where to begin with this review. That was one heck of an emotional roller coaster. Colleen warned us that we were going to cry, ugly cry in this book and I didn't believe her. She ripped my heart out and like she did in Hopeless and Maybe Someday. The only hope I had was that I know that Colleen is a sucker for HEA so I knew I would get my fairy tale ending.
I fell in love with this book from the very first chapter. I kid you not. I was instantly drawn to the story and I couldn't stop reading it. I got my copy early in the morning and I was at work. I decided to just read a chapter just to see how it was. Well, that was a huge mistake. I kept sneaking to the bathroom to get "one more chapter in." While I was trying to work all I kept thinking about was Miles and Tate. I wanted to know why Miles was so against falling in love, yet he couldn't stay away from Tate. But Tate never gave up on Miles. She stood by him even though Miles clearly had emotional issues. There is something about a troubled soul that makes us want to protect, shelter and love, even if it kills us along the way. I honestly do not know if I could have been there for as long as Tate was. I don't know if I could have put up with my heart being shattered with every rejection. Honestly, this only made me love Tate even more. She knew that deep down Miles could be fixed, but would it be worth it in the end after her heart was lying on the floor in a million pieces?
Colleen, if you love us, your fans, PLEASE do a novela in Miles POV. I need to know what was going through his head! My heart ached for him.
Holder and Ridge you have to move over and make room for Miles. He is my new book boyfriend and ladies, I don't want to share. So please make sure you order your copy now.