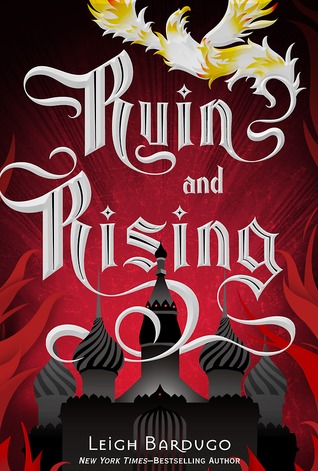 Title
: Ruin and Rising (The Grisha #3)
Author
: Leigh Bardugo
Publication Date
: June 17, 2014
Publisher
: Henry Holt and Co.
Pages
: 417
Source
: Bought/Hardcover
Age Group
: Young Adult
Genre
: Fantasy
The capital has fallen. The Darkling rules Ravka from his shadow throne.

Now the nation's fate rests with a broken Sun Summoner, a disgraced tracker, and the shattered remnants of a once-great magical army.

Deep in an ancient network of tunnels and caverns, a weakened Alina must submit to the dubious protection of the Apparat and the zealots who worship her as a Saint. Yet her plans lie elsewhere, with the hunt for the elusive firebird and the hope that an outlaw prince still survives.

Alina will have to forge new alliances and put aside old rivalries as she and Mal race to find the last of Morozova's amplifiers. But as she begins to unravel the Darkling's secrets, she reveals a past that will forever alter her understanding of the bond they share and the power she wields. The firebird is the one thing that stands between Ravka and destruction—and claiming it could cost Alina the very future she's fighting for.
Leigh Bardugo is a gifted author who's imagination totally reflects in her books. The Grisha trilogy is full of adventure, suspense and heartbreak. Yes, I cried in Ruin and Rising. I am sure I am not the only one. Even though I felt like Ruin and Rising wasn't as fast paced as the other two books, I was completely consumed in the final installment. The ending was perfect, at least in my eyes. I know a lot of people are "team the Darkling", but honestly, I never understood why. Is he hot? Yes! Would you trust him in the dark next to me? Hell no!! Not even in the day light! I am sorry all you Darkling lovers, I just don't see it.
After finishing Ruin and Rising I realized how much the covers actually reflect each book. Ruin and Rising has the Fire Bird on the cover which Alina and Mal are searching for to complete the circle. Even the name Ruin and Rising goes perfectly with the story. I won't say much about that because I don't want to give anything away, but after you finish reading it, you will understand. There is a lot of action in this book which totally had me devouring every page.
I love Alina and Mal and I was dying to see what would happen between them since things didn't end that great in Siege and Storm. But rest assured, you will find out in Ruin and Rising. But I am keeping it hush hush so you better go and start reading it now!
So my owls, I have to say that I was a big fan on Seige and Storm. The story ended perfectly and I couldn't have asked for a better ending to this unique series. Would I have preferred a few things to go a little different, yes, but all in all, Leigh Bardugo wrapped this series perfectly.