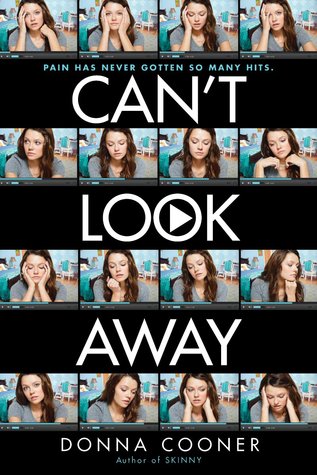 Title
: Can't Look Away
Author
: Donna Cooner
Expected publication:
August 26th 2014
Publisher
: Point
Pages:
272
Source
: Publisher - BEA
Age Group
: Young Adult
Genre
: Contemporary
Donna Cooner establishes herself as our own Jodi Picoult in this timely tale of sisters, loss, and redemption. Torrey Grey is famous. At least, on the internet. Thousands of people watch her popular videos on fashion and beauty. But when Torrey's sister is killed in an accident -- maybe because of Torrey and her videos -- Torrey's perfect world implodes. Now, strangers online are bashing Torrey. And at her new school, she doesn't know who to trust. Is queen bee Blair only being sweet because of Torrey's internet infamy? What about Raylene, who is decidedly unpopular, but seems accepts Torrey for who she is? And then there's Luis, with his brooding dark eyes, whose family runs the local funeral home. Torrey finds herself drawn to Luis, and his fascinating stories about El dio de los Muertos, the Day of the Dead. As the Day of the Dead draws near, Torrey will have to really look at her own feelings about death, and life, and everything in between. Can she learn to mourn her sister out of the public eye?
People have a tendency to handle death differently. Some cry, others get angry and then there are a few who are just lost in limbo. Not knowing exactly what to do or how to act or how to feel. That's amplified when you have a spotlight on you. Torrey Grey is famous you see. No, not in the typical sense Torrey is internet sensation Beautystarz15 your beauty guru with all the newest tips and tricks you need. Being known while tragically losing your sister throws her front and center and of course everyone has an opinion. Don't you?
I wasn't really crazy about Torrey as a character at the beginning of the book, but like I said everyone handles death differently. I'm glad she started developing a bit more once the story started moving along. I also feel in love with some of the secondary characters. Raylene, boy was she something else! It's funny who actually spends that time with you during your biggest downfall. That's when you realize who truly matters.
One thing is for certain I loved Cooner's writing. She has a way with words that instantly grab you attention. The flashbacks between Torrey and her sister Miranda gave you a better idea of where the girls stood with each other. I defiantly recommend picking up Can't Look Away!