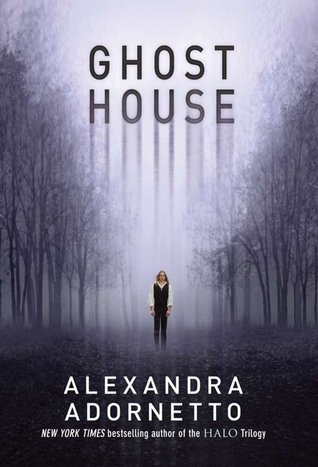 Title:
Ghost House
Author:
Alexandra Adornetto
Publication Date:
August 26th, 2014
Publisher:
HarlequinTeen
Pages:
320
Format:
ARC
Source:
Publisher/BEA
Age Group:
Young Adult
Genre:
Fantasy/Paranormal/Mystery
After the loss of her mother, Chloe Kennedy starts seeing the ghosts that haunted her as a young girl again. Spending time at her grandmother's country estate in the south of England is her chance to get away from her grief and the spirits that haunt her. Until she meets a mysterious stranger…

Alexander Reade is 157 years dead, with secrets darker than the lake surrounding Grange Hall and a lifelike presence that draws Chloe more strongly than any ghost before. But the bond between them awakens the vengeful spirit of Alexander's past love, Isobel. And she will stop at nothing to destroy anyone who threatens to take him from her.

To stop Isobel, Chloe must push her developing abilities to their most dangerous limits, even if it means losing Alex forever… and giving the hungry dead a chance to claim her for their own.
Holy mother of ghosts! This was a very mysterious and dark read. It had me checking every corner, double checking shadows and jumping at every little sound. I love ghost stories and this one I truly enjoyed. Alexandra did a good job at making the ghosts and their stories believable. Although the premise of the book was really interesting, I felt that in some part the story dragged a little leaving all the action towards the very end of the book.
Chloe and all the other characters were really interesting. Every single one of them added their personality and twist to the story line. My favorite one has to be Isobel just because how dark, mean and twisted she is. I also like the sisters. I feel that they added a light and funny touch to this story. As for the boys, both of them are really swoony and crush worthy.
Overall, I felt that the story was enjoyable and that it had a lot of potential, but somewhere along the line it started to drag. There were a lot of questions not being answered and a lot of twists and turns (which I did appreciate because it keep the story interesting enough to finish). I would definitely pick up the second book on this trilogy because HOLY MOLY that cliffhanger! I really want to know how that happened! If you like ghost tales, I would recommend that you read this dark and creepy story.
~ TRAILER ~