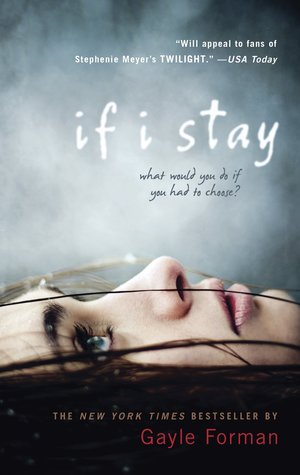 Title:
If I Stay (If I Stay #1)
Author
: Gayle Forman
Publication
Date
: April 6, 2010
Publisher
: Speak
Pages
: 262
Format
: Paperback
Source
: Bought
Age Group:
Young Adult
Genre
: Contemporary Romance
On a day that started like any other,

Mia had everything: a loving family, a gorgeous, admiring boyfriend, and a bright future full of music and full of choices. In an instant, almost all of that is taken from her. Caught between life and death, between a happy past and an unknowable future, Mia spends one critical day contemplating the only decision she has left. It is the most important decision she'll ever make.

Simultaneously tragic and hopeful, this is a romantic, riveting, and ultimately uplifting story about memory, music, living, dying, loving.
I decided to read If I Stay since the movie is coming out next month. I knew that this book was going to make me cry......hard, and that's why it took me so long to finally read it. So did I cry? Yes! I cried, ugly cried. I was at work on my lunch break when I finished it and I was sitting next to Pam and she started laughing because I was crying huge alligator tears. But who wouldn't cry?? The story is powerful, shocking and painfully beautiful! The whole time I was reading it, I kept thinking how we shouldn't take the people we love in our lives for granted. One day they can be here and gone the next. We live our lives in the now and we never really stop to think about how things would change if the people we love and cared about died. It's too depressing, but it's reality.
Mia's life couldn't be any more perfect. She has a chance in getting into one of the best music schools in the county; she has the best parents and brother anyone could ask for; she has an amazing boyfriend that loves her to pieces and is in a rock band and recording his first album. Life for Mia is great. Until one day when everything shatters. Mia is stuck and will have to make the toughest choice of her life.
This story really got to me. It got deep into my heart and soul. Not many stories have done that to me. If you haven't read If I Stay, I suggest you do. Especially since the movie is right around the corner. Now I will go and sit on my couch and cry some more, because I can't stop thinking about that ending! It's a good thing I have Where She Went to help me. #thefeels