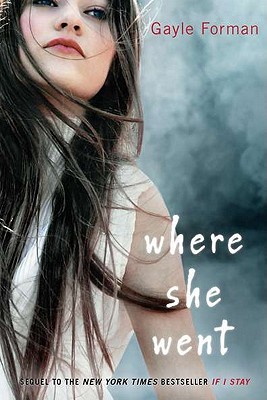 Title
: Where She Went (If I Stay #2)
Author
: Gayle Forman
Publication Date
: April 5, 2011
Publisher
: Dutton Juvenile
Pages
: 264
Format
: Paperback
Source
: Bought
Age Group
: Young Adult
Genre
: Contemporary Romance
It's been three years since Mia walked out of Adam's life.

And three years he's spent wondering why.

When their paths cross again in New York City, Adam and Mia are brought back together for one life-changing night.

Adam finally has the opportunity to ask Mia the questions that have been haunting him. But will a few hours in this magical city be enough to lay their past to rest, for good - or can you really have a second chance at first love?
I can not tell you enough how much I adored this book. It is perfect in every way. From Gayle's writing, to the characters, just everything. From beginning to end, this book is perfection. It is the perfect love story. Where She Went is a book that will give you hope in the darkest times. It will show you that love concurs all and that with time, even the biggest wounds heal.
* * * * IF YOU HAVE NOT READ IF I STAY, DO NOT CONTINUE READING * * * *
We only really got a little bit of Adam in If I Stay because it was told from Mia's POV, but in Where She Went, it's told from Adam's POV and it couldn't have been a better choice. Thank you Gayle! Adam will capture your heart from the very beginning. You can feel the love that Adam has for Mia. It wasn't just a high school crush. It was a life time, soul mate kind of love.
Three years have passed since Adam last saw Mia. His band **** has become a huge hit and their last two records have both gone double platinum. You would think everything is perfect for Adam. This is exactly what he wanted, right? Well, Adam couldn't be more miserable. He's miserable because Mia walked out of his life three years ago without an explanation as to why she cut him out of her life. Then one day while Adam is in New York, by pure luck, or a more powerful force, he sees that Mia is playing at a concert. Not only is she playing, she is the headliner. Adam can't help himself, so he goes and buys a ticket and watches Mia play her chelo. Right after she finishes, Adam is approached by one of the employees there to tell him that Ms. Mia Hall would like to see him. Adam wasn't expecting this, but this might be his only chance to speak with her. Needless to say, he goes and that might be the best decision he has ever had. I won't say anything else, because I really don't want to spoil the book or you.
This has to be one of my favorite reads. It's such a beautiful love story. So please, don't be like me. If you haven't read If I Stay and/or Where She Went, please do so. Believe me, they will become one of your favorites! Now GO!