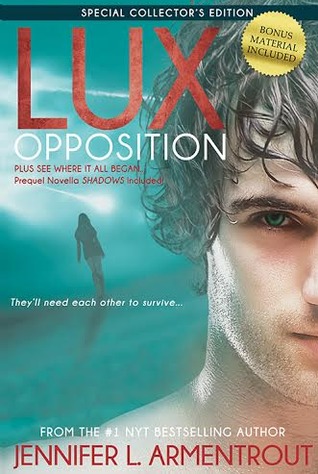 Title
: Opposition (Lux #5)
Author
: Jennifer L. Armentrout
Publication Date
: August 5, 2014
Publisher
: Entangled Teen
Pages
: 400
Format
: Paperback
Source
: Bought
Age Group
: Young Adult
Genre
: Paranormal/ Supernatural/ Romance
Katy knows the world changed the night the Luxen came.

She can't believe Daemon welcomed his race or stood by as his kind threatened to obliterate every last human and hybrid on Earth. But the lines between good and bad have blurred, and love has become an emotion that could destroy her—could destroy them all.

Daemon will do anything to save those he loves, even if it means betrayal.

They must team with an unlikely enemy if there is any chance of surviving the invasion. But when it quickly becomes impossible to tell friend from foe, and the world is crumbling around them, they may lose everything— even what they cherish most—to ensure the survival of their friends…and mankind.

War has come to Earth. And no matter the outcome, the future will never be the same for those left standing.
I can not begin to tell you how sad I am that this series is over. I want more Daemon! I am sure all of Daemon fans agree with me on this. You can never have enough Daemon. I thought long and hard about how I was going to write this review and I finally decided that in order not to spoil it, I was going to be as vague as possible, but also tell you what I loved and disliked about it.
* * * If you haven't read any of the previous books, do NOT read these reviews.* * *
In the previous book, Origin, we were all left hanging. That ending pretty much killed us all. Then to make it worse, we had to wait a whole year to find out what happened next. I swear Jen must get a kick out of torturing her fans. LOL. Evil I tell ya, evil!
So, opposition starts right where Origin left off, which is great because we all have tons of questions. Most of our questions get answered and some new ones will pop up. We are introduced to new characters and some we will get to revisit. Like all of Jen's books, there is never a dull moment. She always keeps us flipping through the pages like hungry kids devouring every word. Can you tell I love this woman? There will be fighting. Lots of fighting. So if it's action you want, it's action you will get here. There were times that I couldn't read fast enough because I needed to know what was going to happen next.
The ending was bitter sweet for me. I really hate to say good bye to these characters that have been with me since the very beginning. Daemon is not the same guy he was in Obsidian. Honestly, I thought he was an a$$, but he grew on me and in Onyx, he totally won me over. I loved this book and the series from beginning to end. The ending in Opposition was perfect and I have a feeling Jen has a surprise for us and I am crossing my fingers and toes that I am right!
So my fellow readers, if you haven't started this series, I STRONGLY suggest you start now. All of the books are out now, so you can read them all back-to-back. While we had to wait months in between each. But consider yourself warned, once you start, you won't be able to stop or put them down; so make sure you have plenty of time to read them all.
This is the end. *cries in a corner* It was a bitter sweet read. Sweet, because I finally got to read the last book in the Lux series and bitter, because it's sad to say bye to characters that I got emotionally attached to.
So this is it…
So this is the last book of the Lux Series. We get to go in the last adventure with Kat and Daemon. This was action packed book and a heck of a page turner. I totally recommend the series for all of you who want a funny and fast read book series. I don't want to get into details because I don't want to spoil the series for anyone who decides to read it.
I have been waiting for what feels like forever for this last book. My expectations were crazy high for Opposition. I read the book in less than 24hrs *high five*, but I wasn't into it as much as the previous books. It felt like it didn't reach to my crazy theories and that's my fault. I created crazy possibilities for this book, but yeah, none of them happened. Regardless, of my crazy theories, the book was awesome. Katy is still a badass who doesn't take crap from anyone. Daemon, he is just the babe for me. He can do no wrong. We get to see this other super sweet side of Daemon that kills me, in a really good and amazing way.
Thank you Jennifer L. Armentrout for this series for give us. These characters will always be on our hearts. For Daemon and Katy. Just THANK YOU!!