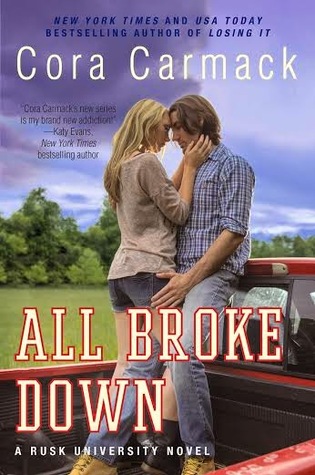 Title
: All Broke Down
Series:
Rusk University
Author
: Cora Carmack
Publication:
October 28, 2014
Publisher
: William Morrow
Pages:
368
Format:
eARC
Source
: Publisher
Age Group
: New Adult
Genre:
Contemporary
In this second book in New York Times and USA Today bestselling author Cora Carmack's New Adult, Texas-set Rusk University series, which began with All Lined Up, a young woman discovers that you can't only fight for what you believe in . . . sometimes you have to fight for what you love Dylan fights for lost causes. Probably because she used to be one. Environmental issues, civil rights, education—you name it, she's probably been involved in a protest. When her latest cause lands her in jail for a few hours, she meets Silas Moore. He's in for a different kind of fighting. And though he's arrogant and not at all her type, she can't help being fascinated with him. Yet another lost cause. Football and trouble are the only things that have ever come naturally to Silas. And it's trouble that lands him in a cell next to do-gooder Dylan. He's met girls like her before—fixers, he calls them, desperate to heal the damage and make him into their ideal boyfriend. But he doesn't think he's broken, and he definitely doesn't need a girlfriend trying to change him. Until, that is, his anger issues and rash decisions threaten the only thing he really cares about, his spot on the Rusk University football team. Dylan might just be the perfect girl to help. Because Silas Moore needs some fixing after all.
I can officially say that All Broke Down just became my favorite Cora book. I never thought I'd utter those words after finishing Finding It. I identify myself with Kelsey so much that I felt like Cora was spying on me and wrote a novel about my life. Hey Cora, I'm gonna need those royalty checks now lol! My mind completely turned when I got my hands on All Broke Down. I honestly have now words. Wow is the first thing I said once I got to the last page, and wow is all I've been saying.
Everyone expects you to be a certain way. Whether it be because of your upbringing or where you are from, people automatically jump to conclusions without giving you the benefit of the thought. That's why Silas Moore has kept his mouth shut about his past. He keeps focus on what's most important to him. Football is his one way ticket out of everything. Will ghosts from his past threaten to mess it all up, or will certain stranger help guide him the right way?
I'm literally writing this not even five minutes after I've finished reading All Broke Down. I'm not sure if that's a good or bad idea. Good because everything is still fresh in my mind, bad because this will basically be a love letter to Cora and this amazing book. Eh, seems like there is no down side lol!
You honestly go on a roller-coaster of emotions with this book. From getting a better insight into Silas' mind as well as getting to know this girl amazing that will make you crack up, as well as cringe at how awkward she can be. Dylan is truly one of a kind. Silas and Dylan's "relationship" isn't your typical story. They are both lost. One is trying to leave the past behind and the other doesn't exactly know where she belongs. Many of us have felt and some still feel that way. I think that's why you will instantly fall in love with their story.
I'm being somewhat vague with what goes on, but it's only because I want you guys to experience their story first hand. It's truly wonderful and Cora's writing is literally on another level when it comes to All Broke Down. If you enjoyed All Lined Up then I can guarantee you will love All Broke Down.