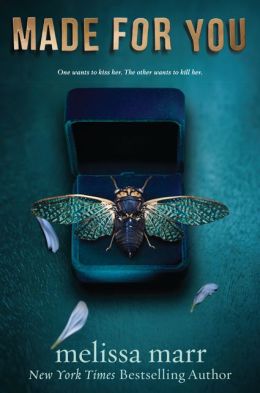 Title:
Made For You
Author
: Melissa Marr
Publication Date
: September 16, 2014
Publisher
: HarperCollins
Pages
: 358
Source
: BEA/Publisher
Format
: ARC paperback
Age Group
: YA (adult content)
Genre
: Suspense/Thriller
When Eva Tilling wakes up in the hospital, she's confused—who in her sleepy little North Carolina town could have hit her with their car? And why? But before she can consider the question, she finds that she's awoken with a strange new skill: the ability to foresee people's deaths when they touch her. While she is recovering from the hit-and-run, Nate, an old flame, reappears, and the two must traverse their rocky past as they figure out how to use Eva's power to keep her friends—and themselves—alive. But while Eva and Nate grow closer, the killer grows increasingly frantic in his attempt to get to Eva.

For the first time, New York Times bestselling author Melissa Marr has applied her extraordinary talent to contemporary realism. Chilling twists, unrequited obsession, and high-stakes romance drive this Gothic, racy thriller—a story of small-town oppression and salvation. Melissa's fans, and every YA reader, will find its wild ride enthralling.
This story really caught me by surprise. I knew somewhat what the story was about, but I had no idea that it was going to be so disturbing. I mean that in a good way. I just think that it's a little too graphic for it to be considered YA. Don't get me wrong, I love the story, I was just take aback by some of the scenes. At first glance, I fell in love with the cover. If my ARC is pretty, I can only imagine what the finished copy will look like.
In a small country town in North Carolina called, Jessup, Eva Tilling has the perfect life. A popular boyfriend and part of the "in" crowd at school. One night after a party, as she is walking home, she is hit by a hit-and-run driver. She wakes up in the hospital with a broken leg, a banged up head and cuts all over her face. She soon realizes that that's not the only thing she got from that horrific night. She can now see how a person dies, by simply touching them. While at the hospital, Eva sees Nate, her childhood best friend who one day decided he didn't want to be friends with her anymore and just up and left her. This part kind of bothered me. Eva and Nate just picked up where they left off. If that would have been me, I would have been really mad at Nate. I would have made him work for my friendship again. I guess that happens when your childhood BFF also is the love of your life. But there is one problem: This was no accident. Someone intentionally tried to kill Eva. This mystery soon escalates when some of Eva's friends turn up dead. The killer also leaves Eva "messages" with his victims for Eva. Will Eva's new gift help her solve this mystery before all her friends turn up dead? You will just have to read to find out.
Melissa Marr did a great job with Made For You. My one and only complaint is that I wish the killer wouldn't have been reveled so quickly. I would have liked for me to have had to guess and figure out who it was. I guess I am just used to thrillers that have me guessing until the very end. Overall, Made For You was a fantastic read. This is my first read by Melissa Marr and it will certainly not be my last.