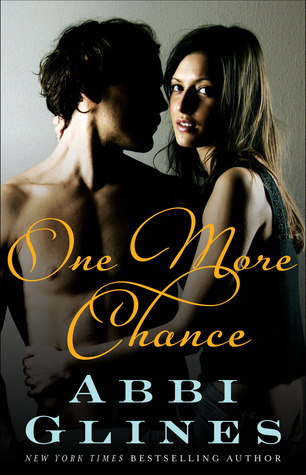 Title
: One More Chance (Rosemary Beach #8)
Author
: Abbi Glines
Publication Date:
September 2, 2014
Publisher
: Atria Books
Pages:
256
Format:
eBook/ARC
Source
: Publisher
Age Group
: New Adult
Genre
: Contemporary Romance
Grant Carter did everything in his power to convince Harlow Manning that he was a good guy. More than a smooth-talker and someone she could trust. He had to overcome his reputation as a playboy, and his history with Harlow's half-sister, Nan, a woman with a reputation of her own. Harlow had taken the chance, falling hard and fast for the guy who thrilled her with his all-consuming desire. After a lifetime of avoiding bad boys like Grant, she had opened herself to the possibilities of love... But a life-changing secret has torn them apart, and now Grant and Harlow must decide if they have enough fight to make it work - or if the pain of betrayal has permanently destroyed their future.
My poor beating heart cannot take it. Abbi Glines can seriously do no wrong in my book! I feel like a really bad drug addict when it comes to Abbi's books lol! If I don't get one every few months, I find myself going crazy and rereading her entire series again. If you haven't figured it out, I'm pretty much obsessed with Abbi's writing and her stories.
This might very well be my favorite Abbi book to date. I went through a whirl wind of emotions with their story. I couldn't decided if I was happy, mad, sad, angry or jumping for joy all within a span of 50 pages. When an author can make you feel all those emotions and do a grand job of bringing it all together… bravo! Abbi landed on my top favorite authors list because of many reasons, but the one thing that always stands out with each new book, is how she instantly captures your attention. Grant and Harlow's story is no different. Things were said and feelings were hurt in Take A Chance, so I knew going into One More Chance that my emotions were going to be all over the place. I really don't want to say much because really, it's just better if you dive right in and experience Harlow and Grant's story first hand. Harlow's character development from when we first meet her to now, is astonishing. The love she has overwhelms my heart with joy.
There is a certain someone that does something very unexpected that will make you see them in a whole new light. I love little things like that and I'm glad Abbi decided to give us a glimpse into that character. I'm sure many people will see that character a little different. We get to see the whole Rosemary gang and are introduced to a few new ones too. I'm honestly so excited for Abbi to continue with this series, and see what trouble the others get into.
One More Chance was a fantastic follow up to Take A Chance, and I can't recommend it enough.