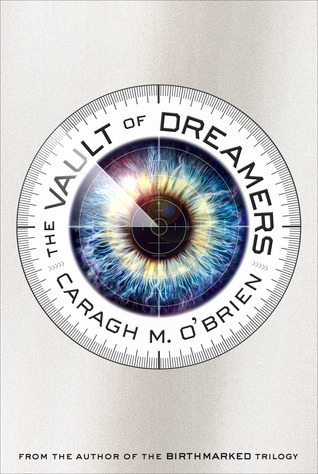 Title
: The Vault of Dreamers
Author
: Caragh M. O'Brien
Publication Date:
September 16th 2014
Publisher
: Roaring Brook Press
Pages:
432
Format:
ARC
Source
: Publisher - BEA
Age Group
: Young Adult
Genre:
Science Fiction
From the author of the Birthmarked trilogy comes a fast-paced, psychologically thrilling novel about what happens when your dreams are not your own. The Forge School is the most prestigious arts school in the country. The secret to its success: every moment of the students' lives is televised as part of the insanely popular Forge Show, and the students' schedule includes twelve hours of induced sleep meant to enhance creativity. But when first year student Rosie Sinclair skips her sleeping pill, she discovers there is something off about Forge. In fact, she suspects that there are sinister things going on deep below the reaches of the cameras in the school. What's worse is, she starts to notice that the edges of her consciousness do not feel quite right. And soon, she unearths the ghastly secret that the Forge School is hiding—and what it truly means to dream there.
The cover of The Vault of Dreamers is gorgeous, it literally calls to you. The colors and the contrast with the eye on the covers make it supper awesome. I have not had the opportunity to read a Caragh M. O'Brien book before, so I was excited to read a new author's writing.
Rosie Sinclair goes to high school just like any other teenager, only that her high school isn't really like any other. The Forge School is the only way that Rosie can make her dreams of being a filmmaker come true. Why you may ask? Well, The Forge School is a super popular TV show! Whatever the students do inside is recorded and televised. Rosie is about to get cut out of The Forge School, but then she meets Linus. Linus is a kitchen help that decides to help her out. Then Rosie realizes that there's something more going on in Forge. This is her journey, to find out what is really behind The Forge School of the Arts.
This was kind of an odd read because there is no build up to the world we are just thrown into it without a back story. The romance was cute, but I feel like he was just there. The start of the book hooks you front the start, but really nothing seems to move along. The plot is at a standstill. I found myself walking away from it a couple of times. I wish I could say I enjoyed it, but I guess I wanted a bit more than was delivered.