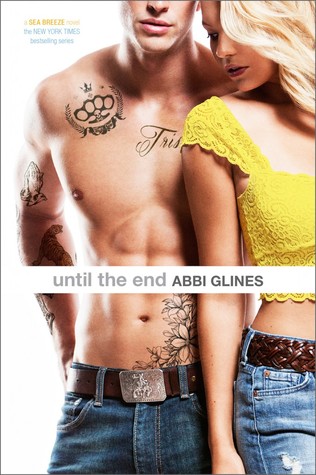 Title
: Until the End (Sea Breeze #9)
Author: Abbi Glines
Publisher: Atria Books
Publication Date: October 28, 2014
The backstory that fans have been clamoring for—how Rock and Trisha fell in love—is the final installment in the Sea Breeze series from New York Times bestselling author Abbi Glines. And don't miss the sizzling Epilogue, where Abbi wraps up all the Sea Breeze couples' stories!

Trisha Corbin always knew how to hide a bruise. With her momma's boyfriends unable to keep their hands off of her, she had no choice. And as long as it meant the guys wouldn't go near her little brother, Krit, it was worth it. But her days of dreaming that Prince Charming would ever come rescue her are far, far in the past.

Rock Taylor always had a plan. Through football, he would rise above the life he was born into. A full ride to play for a major college team was within his reach—assuming he didn't let anything get in his way. But scoring a date with the hottest girl in Sea Breeze was proving harder than expected. Trisha Corbin was every man's walking fantasy, and she wouldn't even glance his way.

When Rock finally does get Trisha in his truck, it isn't for a date. It's because he picks her up on the side of the road, beaten and bruised and walking to the local hospital. Before Rock knows it, football is no longer his life. Trisha Corbin is. And he'll do anything to save her. And keep her.

In addition to Rock and Trisha's love story, this special novel contains the wrap-up stories of all your favorite Sea Breeze couples: Sadie and Jax, Marcus and Low, Cage and Eva, Preston and Amanda, Jess and Jason, Krit and Blythe, and Dewayne and Sienna.
Pre-Order Links:
Hey Owls, do I have some amazing news for you! Abbi Glines has slowly been killing me with all her book news this week. Not only is she giving away ARCs of
You Were Mine
at her signings (I'm extremely jealous about this), but she also dropped a bomb on us today! We finally get to see the cover for
Until The End
, the very last book in the Sea Breeze series!
*Sad/Happy tears* I'm super excited to see where it all began for Rock and Trisha, but I'm also dying to read that conclusion!!! Not only will we get to revisit some of our favorite characters, but we will also get to see what they are up to now. I can't believe this series is coming to an end. It's actually bittersweet because I picked up
Breathe
back when it first came out. It's crazy to see where Abbi has taken all of these amazing characters.