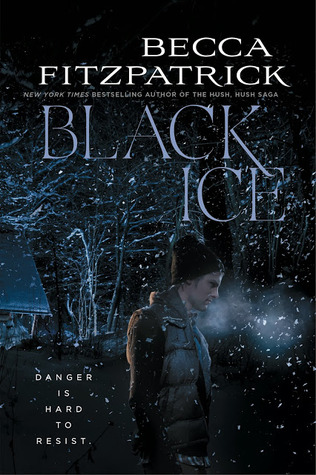 Title:
Black Ice
Author:
Becca Fitzpatrick
Publisher:
Simon & Schuster
Release Date:
October 7th 2014
Pages:
392
Format:
ARC
Source:
BEA
Age Group:
Young Adult
Genre:
Mystery
Sometimes danger is hard to see... until it's too late.




Britt Pfeiffer has trained to backpack the Teton Range, but she isn't prepared when her ex-boyfriend, who still haunts her every thought, wants to join her. Before Britt can explore her feelings for Calvin, an unexpected blizzard forces her to seek shelter in a remote cabin, accepting the hospitality of its two very handsome occupants—but these men are fugitives, and they take her hostage.




In exchange for her life, Britt agrees to guide the men off the mountain. As they set off, Britt knows she must stay alive long enough for Calvin to find her. The task is made even more complicated when Britt finds chilling evidence of a series of murders that have taken place there... and in uncovering this, she may become the killer's next target.




But nothing is as it seems in the mountains, and everyone is keeping secrets, including Mason, one of her kidnappers. His kindness is confusing Britt. Is he an enemy? Or an ally?




BLACK ICE is New York Times bestselling author Becca Fitzpatrick's riveting romantic thriller set against the treacherous backdrop of the mountains of Wyoming. Falling in love should never be this dangerous…
Ever since Hush Hush, I knew that I would never turn down one of Becca Fitzpatrick's novels. I am, and will always be a fan of hers. I mean, as soon as I saw the synopsis for Black Ice, I knew, I just knew, I was going to love it and I did, and now I want to do some backpacking. Oh, and can we talk about the book cover, I get chills every time I see it.
Everyone has secrets and unraveling them was the best part especially for Britt. Well, maybe it wasn't best for her, but for me, it was like I stepped into a candy shop. And the fact that Britt tried to outsmart her fugitive friends, was priceless. She's a survivor and I liked how she always kept trying even when things seemed hopeless.
Btw, I love how this story plays out. You don't know who the good or bad guy is. Makes you wonder if a good person is really good? And is a fugitive really bad? Hmmmm.
Becca executes her new book with such intensity that I didn't see coming. Black Ice is full of mysteriousness that kept me on the edge of my bed. You don't wanna miss out on this dark ride so pick up your copy asap.