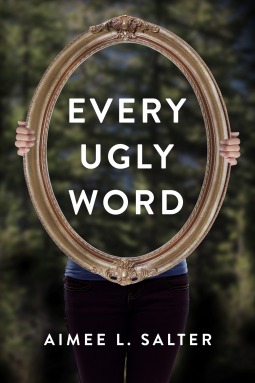 Title:
Every Ugly Word
Author:
Aimee L. Salter
Publisher:
Alloy Entertainment
Release Date:
July 29th 2014
Pages: 257
Format:
eBook
Source:
NetGalley
Age Group:
Young Adult
Genre:
Paranormal
When seventeen-year-old Ashley Watson walks through the halls of her high school bullies taunt and shove her. She can't go a day without fighting with her mother. And no matter how hard she tries, she can't make her best friend, Matt, fall in love with her. But Ashley also has something no one else does: a literal glimpse into the future. When Ashley looks into the mirror, she can see her twenty-three-year-old self.




Her older self has been through it all already—she endured the bullying, survived the heartbreak, and heard every ugly word her classmates threw at her. But her older self is also keeping a dark secret: Something terrible is about to happen to Ashley. Something that will change her life forever. Something even her older self is powerless to stop.
Ever just finish reading a book that leaves you emotionally exhausted? Every Ugly Word did that to me. I probably went to sleep around 3am with swollen eyes and a runny nose.
"I'm confident I'm not crazy."
Ashley is in a rehabilitation center getting therapy due to the events that happened to her and because she sees and talks to her younger self in the mirror.
"You and me . . . we're taking different roads, Ashley. How can I tell you what your future is when it might be different from my past?
Older Ashley tries to help and guide Younger Ashley to not make the same mistakes she did without revealing anything. It's hard to imagine but yes Ashley has an Older self and a Younger self, but they can only see each other through a mirror. It's a little confusing but I promise once you read the first chapter it will all make sense.
"I'm getting texts that tell me to kill myself."
My heart broke into a million pieces for Ashley. Each cruel word was a blow to her shattered chest. Each time she was bullied you feel as it was happening to you
"It isn't what happens to you in your life that destroys you. It's what you do about it."
Throughout the story we see Ashley break and grow. But the most significant moment was when Ashley did the unthinkable and allowed herself to finally feel hope.
"You can never stop fighting. No matter how hard this is and it's going to get harder. But you can't give up. You can never stop fighting."
Ashley will forever be a character that stands apart from all the rest. Why? Aimee could have written Ashley in a way where she quickly stands up for herself but she didn't. It took time for Ashley to believe in herself. It took time for her to realize that courage comes in all type of forms.
Every Ugly Word was such an emotional yet realistic read. Aimee Salter was once bullied and it takes someone brave to relieve those moments and write a book about a character that goes through what she and many others have experienced. And I truly think that this book is an eyeopener and I can't recommend enough for everyone to go read it.