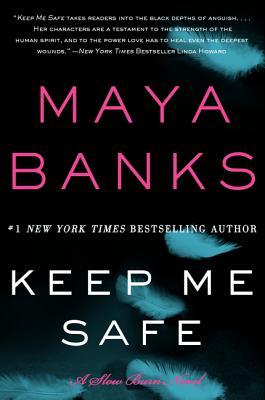 Title
: Keep Me Safe
Author
: Maya Banks
Published Date:
October 7th 2014
Publisher
: Avon
Pages:
256
Format:
Paperback
Source
: Publisher
Age Group
: Adult
Genre
: Romantic Suspense
A sizzling story of a woman who risks her life and her heart to find a wealthy man's missing sister—the first novel in a sexy new romantic suspense series from #1 New York Times bestselling author Maya Banks

When Caleb Devereaux's younger sister is kidnapped, this scion of a powerful and wealthy family turns to an unlikely source for help: a beautiful and sensitive woman with a gift for finding answers others cannot.

While Ramie can connect to victims and locate them by feeling their pain, her ability comes with a price. Every time she uses it, it costs her a piece of herself. Helping the infuriatingly attractive and impatient Caleb successfully find his sister nearly destroys her. Even though his sexual intensity draws her like a magnet, she needs to get as far away from him as she can.

Deeply remorseful for the pain he's caused, Caleb is determined to make things right. But just when he thinks Ramie's vanished forever, she reappears. She's in trouble and she needs his help. Now, Caleb will risk everything to protect her—including his heart. . . .
The cover of Keep Me Safe is simply gorgeous. The simplicity in it makes it that much more appealing. I'm glad that the synopsis doesn't give too much of the story away. It made it so much better because I went in not knowing what to expect.
Ramie is a women with a peculiar talent, she has the ability to connect and find victims by touching things that belong to them. The bad part of this talent is that she also feels what the victims are going through. It causes her a great amount of pain and is slowly tearing her apart. One day she decides to leave everything behind and disappear. That plan goes put the door as soon as Caleb Devereaux has somehow found her. His sister has gone missing and Ramie is the only one who can help him. He will do anything to get his sister back including putting Ramie in great danger.
I just LOVED LOVED LOVED Keep Me Safe! The amount of romance and mystery was a perfect balance of the two. Every page kept me on edge and wondering what was coming next. Caleb is beyond sexy and yet so adorable. The love he has for his sister just melts my heart. The guilt the he feels for what he put through Ramie is real. At the same time you understand where he's coming from because just like him I wouldn't regret the lengths I would go to for someone I love. Ramie is this brave character that in her own way is a hero. She has saved lives knowing what it would to her. It takes guts to do that.
The chemistry between Caleb and Ramie explosive! Ramie feels so safe and protected with Caleb. This guys makes me feel bad about my lack of a boyfriend LOL! Maya, if you wouldn't mind sending me in the right direction of where I could find my own version of Caleb I would really appreciate. ;) I cannot recommend Keep Me Safe enough. If you enjoy reading mystery, love and suspense then this is the book for you! Keep Me Safe is for sure one of my favorite reads this year.