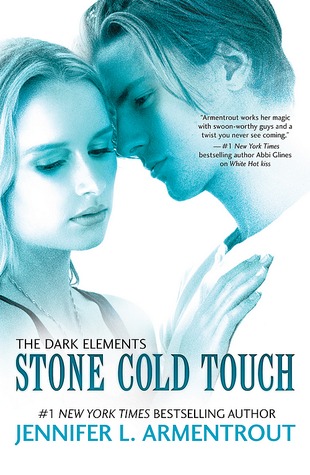 Title:
Stone Cold Touch
Author:
Jennifer L. Armentrout
Publisher:
Harlequin Teen
Release Date:
October 21st 2014
Pages:
446
Format:
ARC
Source:
BEA
Age Group:
Young Adult
Genre:
Paranormal
Layla Shaw is trying to pick up the pieces of her shattered life—no easy task for a seventeen-year-old who's pretty sure things can't get worse. Her impossibly gorgeous best friend, Zayne, is forever off-limits thanks to the mysterious powers of her soul-stealing kiss. The Warden clan that has always protected her is suddenly keeping dangerous secrets. And she can barely think about Roth, the wickedly hot demon prince who understood her in ways no one else could.

But sometimes rock bottom is only the beginning. Because suddenly Layla's powers begin to evolve, and she's offered a tantalizing taste of what has always been forbidden. Then, when she least expects it, Roth returns, bringing news that could change her world forever. She's finally getting what she always wanted, but with hell literally breaking loose and the body count adding up, the price may be higher than Layla is willing to pay…
After reading White Hot Kiss last year you can assume that I was overly excited for Stone Cold Touch; it's not everyday I get to read about cute gargoyles and sexy ass demons who I want to make babies with. (Yes demon babies)
I love Layla now more than ever, she's grown up from the previous book. Layla stands up for herself more and is willing to do whatever it takes to keep her friends and school safe even if it means endangering herself and disobeying her family. AND now with her always being in the middle of things, it's bound to get even more complicated. (Girl deserves a vacation, a long happy vacation.)
I seriously think JLA has a super-uber-mega-times a million powers when it comes to writing. I don't know how Jen does it but every single page in Stone Cold Touch is filled with something new and exiting. I had to hold my breath a few times because HOLY GARGOYLES things are more intense than ever.
Secrets are being kept that could change Layla's world forever. Not everyone is who they seem . . . Stone Cold Touch will leave you second guessing everything you thought you knew about gargoyles and demons and other things that go bump in the night.