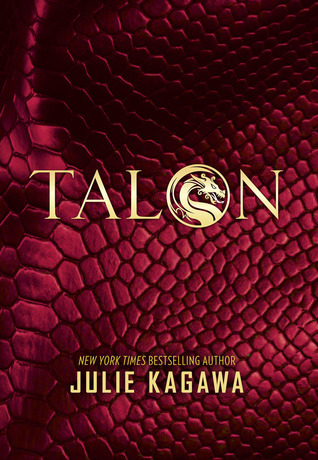 Title:
Talon (Talon #1)
Author:
Julie Kagawa
Publisher:
Harlequin Teen
Release Date:
October 28th 2014
Pages:
400
Format:
ARC
Source:
BEA
Age Group:
Young Adult
Genre:
Paranormal
Long ago, dragons were hunted to near extinction by the Order of St. George, a legendary society of dragon slayers. Hiding in human form and growing their numbers in secret, the dragons of Talon have become strong and cunning, and they're positioned to take over the world with humans none the wiser.




Ember and Dante Hill are the only sister and brother known to dragonkind. Trained to infiltrate society, Ember wants to live the teen experience and enjoy a summer of freedom before taking her destined place in Talon. But destiny is a matter of perspective, and a rogue dragon will soon challenge everything Ember has been taught. As Ember struggles to accept her future, she and her brother are hunted by the Order of St. George.




Soldier Garret Xavier Sebastian has a mission to seek and destroy all dragons, and Talon's newest recruits in particular. But he cannot kill unless he is certain he has found his prey: and nothing is certain about Ember Hill. Faced with Ember's bravery, confidence and all-too-human desires, Garret begins to question everything that the Order has ingrained in him: and what he might be willing to give up to find the truth about dragons.
This is without a doubt, my favorite Julie Kagawa book. I adore her other series, but this one is just everything to me. Plus freaking dragons. I LOVE ANYTHING WITH DRAGONS. Nuff said
Dragons aside, I really enjoyed this story. Ember isn't your normal dragon, well I would assume since I've never encountered one. She has a mind of her own and feels things like a human would. She goes through experiences like us and it was fun reading about her surfing. Let's just says she's a dare devil. But what she really wants is to be free, to fly when she wants. Ember wants be herself without worrying or looking over her shoulder. And that's why for the summer she breaks as many rules as she cans before her life is chosen for her. .
I loved how Julie captures the essence of how one person can change your life. Ember and Garret, are so opposite yet they somehow come together and form this bond over little adventures. Their scenes together were so cute, they were each other's first in many things and I couldn't stop pulling for them. I SHIP IT.
You know Julie is amazing at writing if she can get me to connect with a dragon. I mean Ember wants what we all want, to be loved for who we are without others judging us. Even though this is set in the contemporary world, it still had that little edge of fantasy that I love. Dragons, military, a fight here and there, oh yeah I was one very happy reader.