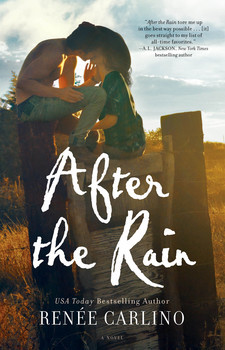 Title
: After the Rain
Author
: Renee Carlino
Publisher
: Atria Books
Release Date
: November 11, 2014
Pages
: 320
Format
: ebook
Source
: Publisher
Age Group
: New Adult
Genre
: Contemporary Romance
From the USA TODAY bestselling author of Sweet Thing and Nowhere But Here comes a deeply emotional contemporary romance about the second chances waiting beyond the shattered dreams of youth.

Under the bright arena lights of a rodeo show, young Avelina Belo falls for a handsome cowboy with a larger-than-life personality. After a whirlwind courtship, she happily moves away from her family in northern California and settles into married life with her cowboy on a seven-thousand-acre cattle ranch in Montana. One freak accident later, Avelina's hopes for the future come to an end.

Nate Myers graduated from UCLA medical school at the top of his class, ready to follow in the footsteps of his father, a superstar cardiothoracic surgeon. Six years later, Nate's career is being ruined by a malpractice suit. Questioning himself for the first time, he retreats to a Montana cattle ranch to visit his uncle and gain perspective. There, he meets a beautiful young woman named Avelina who teaches him more than he ever knew about matters of the heart
This was my reaction when I FINALLY got to read After the Rain...
Can you tell I was just a liiiitle excited? LOL I knew before diving in the book that I was going to instantly fall in love with After the Rain. I have read ALL of Renee's books and I have loved every single one. So now on to my review! But first, my favorite cowboy... (hehe) He's hot, isn't he?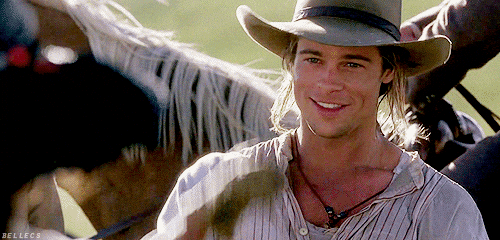 Another amazing story by the so very talented, Renee Carlino! This woman can write some amazing books, I tell ya. She knows how to give us just the right amount of love, angst, and drama to make us fall in love with the story and her characters. Thank you, Renee, for another amazing love story.
My heart literally hurt for Avelina. She had the perfect life, a husband that adored her and would literally give his life up for her without thinking twice about it. But after tragedy strikes, Avelina closes off and just tries to exist, but not really live. I can't blame her though. Having to go through such tragedy at such a young age, has to be completely devastating. She built walls all around her so no one could hurt her again.

Nate Myers is a cardiologist just like his father. He is smart and sexy, and did I mention he is a doctor? The only problem with Nate is that he is a workaholic. He has made it a priority in life to succeed just like his father. Don't get me wrong, that's a great thing to strive for, but you also have to live and enjoy life. Sometimes when we focus on a goal, we don't stop and take time to enjoy the simple pleasures in life, and that's what is missing in Nate's life. After one of his patients dies on the operating table, Nate blames himself and now is being investigated by the board. His father decides to send his to a ranch that his friend owns, get away until everything kind of settles down. Once Nate arrives, he sees Avelina for the first time. He is instantly drawn to her. I don't blame him, she is absolutely beautiful and sweet. But Nate soon realizes that Avelina has a past, a painful past and it will take a lot of patience and love to break down those walls she hides behind.

After the Rain defiantly broke my heart. Renee shattered my heart, mended it, shattered it again, and finally made my heart whole.....again. Did I cry? Oh, God, YES! I was a sobbing mess during certain parts. So if you are in the mood for an emotional book, that will for sure become a favorite, After the Rain, if the perfect book for you!