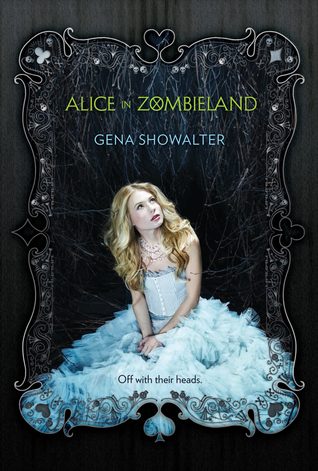 Title
: Alice in Zombieland (White Rabbit Chronicles #1)
Author: Gena Showalter
Publication Date: September 25, 2012
Publisher: Harlequin Teen
Pages: 404
Format: Hardcover
Source: Publisher/Harlequin Teen
Age Group: Young Adult
Genre: Fantasy/Paranornal
She won't rest until she's sent every walking corpse back to its grave. Forever.

Had anyone told Alice Bell that her entire life would change course between one heartbeat and the next, she would have laughed. From blissful to tragic, innocent to ruined? Please. But that's all it took. One heartbeat. A blink, a breath, a second, and everything she knew and loved was gone.

Her father was right. The monsters are real….

To avenge her family, Ali must learn to fight the undead. To survive, she must learn to trust the baddest of the bad boys, Cole Holland. But Cole has secrets of his own, and if Ali isn't careful, those secrets might just prove to be more dangerous than the zombies….

I wish I could go back and do a thousand things differently.

I'd tell my sister no.

I'd never beg my mother to talk to my dad.

I'd zip my lips and swallow those hateful words.

Or, barring all of that, I'd hug my sister, my mom and my dad one last time.

I'd tell them I love them.

I wish... Yeah, I wish.
Holy zombie babies!!! Alice in Zombieland is all kind of amazing! The first time I saw the cover of this book, I knew I wanted to read it, but like most of us, we have so many books we want to read, we don't always get to read what we want, when we want. *le sigh* Although, I actually think it worked out for the best because now I can read all three books back to back without having to wait! Yay me!
Lets talk about how gorgeous this cover is. All three books have amazing covers, you all know I am a sucker for pretty covers. LOL I love how Alice looks so pretty and innocent, which totally captures her character in the first book. But don't let that fool you, Alice is one hell of a tough cookie, and I absolutely adore her.

You know when you read a book and you fall in love with the main characters AND all the supporting characters? Well, this is one of those books. Each character has their own voice and is different and unique, and I love that. Even the ones you don't want to like, you end up liking because they feel so real. And don't get me started on Cole. I have added Cole to my all time favorite book boyfriends' list (which is amazeballs by the way!). I can not begin to tell you how much I love him. He is just everything, hot and sweet all wrapped up into one 6'4, violet eyed zombie killer of a man! *swoons*


There is one thing about this series that disappointed me, but just a little bit, and that's that I was expecting a retelling of the original Alice in Wonderland, but just with zombies. So I think that is why it kind of disappointed me in the beginning, and why it might have taken me a while before I actually got into the story. Now, it does have some references that will make you think of Alice In Wonderland, but it's totally a different story. I just want to warn you, before you start it, so you won't be disappointed with that aspect of the series. So with that said, I LOVE THIS BOOK, THIS SERIES, AND THE CHARACTERS! Yes, I have to use all CAPS because I have to share with you all my love and passion I have for this series.