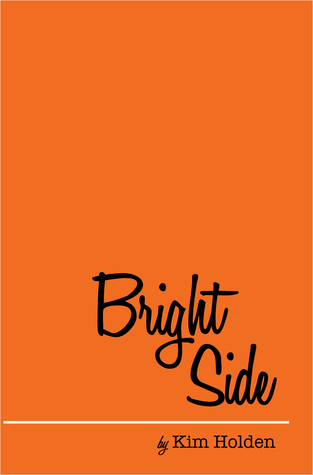 Title
: Bright Side (Bright Side #1)
Author
: Kim Holden
Publication
Date
: July 4, 2014
Pages
:
Publisher
: Do Epic LLC
Format
: E-book
Source
: Bought (recommended by Colleen Hoover)
Age
Group
: Adult
Genre
: Contemporary Romance
Secrets.

Everyone has one.

Some are bigger than others.

And when secrets are revealed,

Some will heal you ...

And some will end you.

Kate Sedgwick's life has been anything but typical. She's endured hardship and tragedy, but throughout it all she remains happy and optimistic (there's a reason her best friend Gus calls her Bright Side). Kate is strong-willed, funny, smart, and musically gifted. She's also never believed in love. So when Kate leaves San Diego to attend college in the small town of Grant, Minnesota, the last thing she expects is to fall in love with Keller Banks.

They both feel it.

But they each have a reason to fight it.

They each have a secret.

And when secrets are revealed,

Some will heal you …

And some will end you.
Kate Sedgwick has just left her hometown of San Diego to travel to Minnesota to attend college leaving behind her best friend and inspiring musician, Gus, and a lifetime of memories that are not all happy ones. But being Kate a/k/a Bright Side (her nickname given to her by Gus) she doesn't let her past or even her future get her down, she plows through it and makes the best of it. The loving bond that Gus and Kate share is so uplifting. They feed off each other's daily lives and keep in touch regularly via text and Skype. They care so much for each other and no one is more important to them, except each other. Even though it is a platonic relationship you can't help but feel there is something more there, something that maybe each other can't even figure out. But whatever it is, they are the real deal as far as besties go.
Having always wanted to go to college and experience a whole new life, Kate sets out to do so completely on her own. She quickly makes a life for herself in her new town, with a handful of new friends from school, the small coffee shop and her job at a local florist. She lives a simple life and her quest for making every moment count is contagious. Kate touches the lives of everyone she comes in contact with. She is caring, selfless and a free spirit who just wants to make everyone around her happy… and she does just that. She voluntarily makes it her mission to help others with whatever they are going through and does so with such passion and conviction. What they don't know is that Kate has a lot of her own secrets and that she has gone through so much in her short life. She has learned to keep that part of her life private because she never wants to be the center of attention.
She is seemingly happy and content just as things are until she meets Keller, the barista at the local coffee shop. She quickly begins to have feelings for him, but because she doesn't live for the future, but rather only lives in the moment she doesn't want to start a relationship with him…. Especially one she can't see ever going anywhere. Keller is so taken with Kate and even though they both have secrets, they cannot resist each other. As his love grows stronger for Kate, he decides to let her in on his secrets. Kate gives very little back to Keller and he is baffled as to where Gus really fits in to her life and just how much of Kate's heart belongs to him. But as he falls deeper in love with her, he knows there is no turning back and no matter what the future holds, he takes whatever she will give him.
I cannot say enough about this beautiful story, except dude, do not even attempt to read it without a box of tissues nearby. All the way through this book, I laughed, cried, grew angry, and repeat… The author did such a great job bring the characters to life, both main and secondary. You just felt like you were right there in every conversation. I was amazed at how much I fell in love with Kate and her refreshing point of view about everything and everyone in her life. At the end of the story, all I really wanted to be was a better person. There are always two ways to look at every single thing in life, if you are smart you will always choose the Bright Side and go Do Epic.