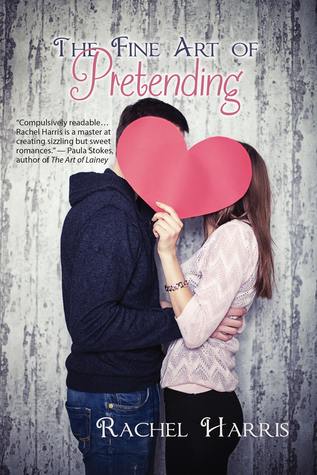 Title: The Fine Art of Pretending
Author: Rachel Harris
Publisher: Spencer Hill Contemporary
Release Date: September 30th 2014
Pages: 256
Format: eBook
Source: Bought
Age Group: Young Adult
Genre: Contemporary
According to the guys at Fairfield Academy, there are two types of girls: the kind you hook up with, and the kind you're friends with. Seventeen-year-old Alyssa Reed is the second type. And she hates it. With just one year left to change her rank, she devises a plan to become the first type by homecoming, and she sets her sights on the perfect date—Justin Carter, Fairfield Academy's biggest hottie and most notorious player.

With 57 days until the dance, Aly launches Operation Sex Appeal and sheds her tomboy image. The only thing left is for Justin actually to notice her. Enter best friend Brandon Taylor, the school's second biggest hottie, and now Aly's pretend boyfriend. With his help, elevating from "funny friend" to "tempting vixen" is only a matter of time.

But when everything goes according to plan, the inevitable "break up" leaves their friendship in shambles, and Aly and Brandon with feelings they can't explain. And the fake couple discovers pretending can sometimes cost you the one thing you never expected to want.
I've been a fan of Rachel Harris ever since I read My Super Sweet Sixteenth Century. There's just something about Rachel's writing that compels me to pick up one of her books without any doubts; she's one of my one-click authors.
I think many readers will connect with the main character Aly, one time or another we've all felt self doubt. Aly struggled a lot with herself, she cared to much about what others thought which makes her do these crazy things. But when she realized it was okay to be herself, I was like
Brandon, oh Brandon, knew the real Aly and made it his mission to convince her she was "amazing just the way you are" and I couldn't have loved him more for it. (Thank you Rachel for giving us his POV as well)
Aly and Brandon are two characters who I instantly felt drawn too. They have this chemistry that is off-the-charts-CUTE and every time they had an interaction I wanted them to give into those hormones and have at it. But not only that Aly and Brandon tell each other everything and watching them struggle with these new feelings was bittersweet.
Rachel Harris delivers a perfect example of self discovery in The Fine Art of Pretending. You'll be cheering for Aly and Brandon the whole way through this book.