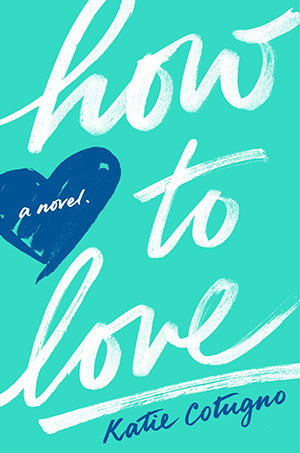 Title
: How To Love
Author
: Katie Cotugno
Release Date
: October 1st 2013
Publisher
: Balzer + Bray
Pages:
389
Format:
Hardcover
Source
: Publisher
Age Group
: Young Adult
Genre
: Contemporary
Before: Reena Montero has loved Sawyer LeGrande for as long as she can remember: as natural as breathing, as endless as time. But he's never seemed to notice that Reena even exists until one day, impossibly, he does. Reena and Sawyer fall in messy, complicated love. But then Sawyer disappears from their humid Florida town without a word, leaving a devastated-and pregnant-Reena behind.

After: Almost three years have passed, and there's a new love in Reena's life: her daughter, Hannah. Reena's gotten used to being without Sawyer, and she's finally getting the hang of this strange, unexpected life. But just as swiftly and suddenly as he disappeared, Sawyer turns up again. Reena doesn't want anything to do with him, though she'd be lying if she said Sawyer's being back wasn't stirring something in her. After everything that's happened, can Reena really let herself love Sawyer LeGrande again?
(4.5)
How To Love and I have been trying to get acquainted for quite some time. It's literally been sitting on my night stand since I got it. When I finally did get some down time it was the first thing I read. I could slap myself for waiting so long!
Reena has gone through so much in the passed three years. In that time, Sawyer LeGrande has all but disappeared. Count her surprise when she walks into a shop and sees him getting a Slurpee. She was not expecting him to ever come back, much less standing there like he never left. Tensions are high and feelings are coming out left and right. A lot has happened, but will Reena ever truly be okay with the return of Sawyer?
Where do I even begin with this story? It holds such a special place in my heart. I think I have to start off with the writing. I haven't read a book in so long that just flowed effortlessly. I kept getting lost with every page I turned. You felt everything Reena went through, and her determination towards the end brought me so much joy.
The format that Cotugno decided to write How To Love works perfectly for this story. It engraves everything that I needed to get a sense of what happened and where the characters are at now. I don't even know how to express my love for Reena and Sawyer. Just thinking about them brings a smile to my face. Reena is a character that will definitely be sticking with me for awhile. Everything she went through is heart breaking, yet brought her the one thing she treasures most. I was a blubbering mess by the time I got to the end of their story. How To Love is beautifully executed and left me wanting more. I can't recommend this book enough!