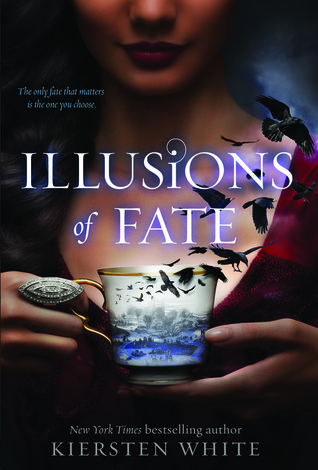 Title:
Illusions of Fate
Author:
Kiersten White
Publisher:
Harper Teen
Release Date:
September 9, 2014
Pages:
275
Format:
Hardcover
Source:
Bought
Age Group:
Young Adult
Genre:
Fantasy
Downton Abbey meets Cassandra Clare in this lush, romantic fantasy from New York Times bestselling author Kiersten White.




"I did my best to keep you from crossing paths with this world. And I shall do my best to protect you now that you have."




Jessamin has been an outcast since she moved from her island home of Melei to the dreary country of Albion. Everything changes when she meets Finn, a gorgeous, enigmatic young lord who introduces her to the secret world of Albion's nobility, a world that has everything Jessamin doesn't—power, money, status…and magic. But Finn has secrets of his own, dangerous secrets that the vicious Lord Downpike will do anything to possess. Unless Jessamin, armed only with her wits and her determination, can stop him.




Kiersten White captured readers' hearts with her New York Times bestselling Paranormalcy trilogy and its effortless mix of magic and real-world teenage humor. She returns to that winning combination of wit, charm, and enchantment in Illusions of Fate, a sparkling and romantic new novel perfect for fans of Cassandra Clare, The Madman's Daughter, and Libba Bray.
Confession: I had no idea about this books existence.(I know, I know I fail miserably at life.) I went to a book signing for Stephanie Perkins and Kiersten White and that's when I found out about Illusions of Fate. Kiersten started talking about her main character and I was just like "I'M SOLD! I NEED THIS BOOK IN MY LIFE."
If you didn't fall in love with the first sentence of Illusions of Fate, then you're reading wrong. Kiersten White creates a different take on magic where the spells are more scientific. I found myself engrossed in this story, I couldn't help turning the pages to discover the history and elements of this fascinating world. (Can someone take me to that time period please?)
Illusions of Fate is so much more than I could have ever expected, Jessamin is more than what I expected. She isn't your typical main character, nope. Jessamin has a voice and isn't afraid to use it. She's dark skinned, smart, and doesn't have it all but that doesn't stop her from being this amazing heroine that I look up to.Throughout the whole story, not once did Jessamin run tail. Yes they were times she was scared but she fought that off and battled her fears. I loved that about her. Jessamin stayed true to herself and didn't let a guy rescue her (even if said guy was somone I wanted to crush with lots of kisses.)
FIE ON YOU KIERSTEN! Illusions of Fate is without a doubt my favorite book of yours, I loved it a billions. The witty charm you create in your novels is what I live for.