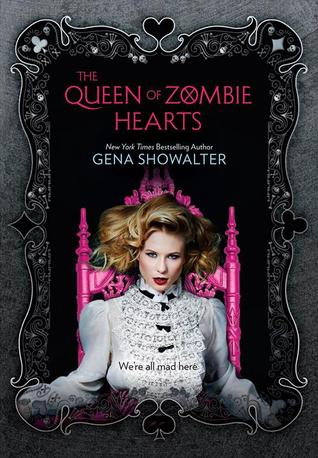 Title
: The Queen of Zombie Hearts (The White Rabbit Chronicles #3)
Author
: Gena Showalter
Publication Date
: September 30, 2014
Publisher
: Harlequin Teen
Pages
: 464
Format
: Hardcover
Age Group
: Young Adult
Genre
: Fantasy/Paranormal
I have a plan.

We'll either destroy them for good, or they'll destroy us.

Either way, only one of us is walking away.

In the stunning conclusion to the wildly popular White Rabbit Chronicles, Alice "Ali" Bell thinks the worst is behind her. She's ready to take the next step with boyfriend Cole Holland, the leader of the zombie slayers…until Anima Industries, the agency controlling the zombies, launches a sneak attack, killing four of her friends. It's then she realizes that humans can be more dangerous than monsters…and the worst has only begun.

As the surviving slayers prepare for war, Ali discovers she, too, can control the zombies…and she isn't the girl she thought she was. She's connected to the woman responsible for killing—and turning—Cole's mother. How can their relationship endure? As secrets come to light, and more slayers are taken or killed, Ali will fight harder than ever to bring down Anima—even sacrificing her own life for those she loves.
I can not begin to tell you how much I love this series. Queen of Zombie Hearts is the final installment in the White Rabbit Chronicles and it couldn't have ended better. From the very beginning of this series, I was instantly drawn to the story. I have never really read anything like it. I cried, I laughed, but most of all, it will be one of my all time favorite paranormal series ever. I will confess that I am not really into zombies. I know, how can I love this series so much when the word "zombie" is in every book title? LOL The thing is, it's just so much more then half dead creepy people walking around trying to such out our souls. Gena Showalter is just a genius for bringing gory zombies and paranormal together in such a fun and unique way.
I don't want to get into the story because I don't want to risk spoiling anything. Did I cry? Heck yeah i did! I was a mess throughout the whole book! If I wasn't holding my breath, I was crying. If I wasn't crying I was holding laughing. Queen of Zombie Hearts was absolutely perfect. The characters feel so real are all so alive in my mind. When tragedy struck, I didn't know what to do or say. I was left speechless. Gena knew not push us too much and for that I love her even more.
If you haven't started this series yet, I strongly suggest you do. Lucky for you, all 3 books are out! So make sure you put the books on your Christmas list!