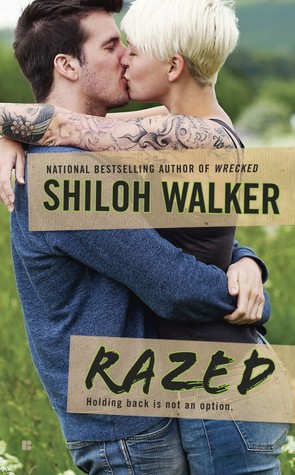 Title
: Razed
Author
: Shiloh Walker
Expected publication:
December 2nd 2014
Publisher
: Berkley
Pages:
320
Format:
eARC
Source
: Publisher
Genre:
Contemporary Romance

Tattoo artist Keelie Jessup can handle that someone else has claimed the man of her dreams. She's just not pleased with her remaining options…

Keelie doesn't believe in the "perfect man." But the men who are worth the trouble are usually taken—like her business partner Zach Barnes. After a string of bad luck and the lost chance with Zach, Keelie decides that maybe flying solo—and living with suppressed desires—is the key to happiness.

As a photographer, Zane Barnes has an eye for the human form, and his eyes can't get enough of Keelie's curves. Unfortunately, Keelie is like most women—always fawning over his little brother, Zach. Zane is about ready to give up, but then a few stolen moments at his brother's wedding have him thinking maybe there's a chance there after all. Now he just has to prove that the perfect man does exist…for her.
Opening line: 1. Stop worrying so much about the future.

First thought after closing the book: *le swoon* Zane.

Thoughts on the cover: It represents Keelie and Zane to the T. Do I love? I'm pretty meh about it.

Is it a standalone/series?: Standalone.

Do you have to read the book(s) before?: Yes and no. I go further into this in my review.
I have to start off with saying that if you haven't read Wrecked I highly suggest reading (or rereading) the first book because it literally picks up where Wrecked ends. You won't be lost per say, but it would be better to have an idea of where Wrecked left off. I was incredibly excited to start reading Razed. I mean those Barnes brothers alone will have me reading just about anything! A massive thank you goes out to Berkley for sending me this amazing book.
Keelie is such a relatable character. I think we've all been in her position before, you know the one about giving up on finding mister right. Either the timing never seems to be right, they are taken or they are just plain jerks. The cards just never seem to in her favor that is until Zane Barnes seems to take notice. The only thing is that Zane has had his eyes on Keelie for some time now. She's just been too wrapped up on his little brother Zach. He can't fault her though since girls have been throwing themselves at Zach since he can remember. Zach being a child star and all. Things get a little heated between Keelie & Zane one night, but Keelie being Keelie just brushes it off. Zane isn't going down without a fight so he will just have to prove to Keelie that there is a mister right out there and that he is that man for her.
I really enjoyed these characters immensely! Zane stole the show for me only because I'm pretty sure he's my dream guy. He was such a passionate guy with Keelie and now a day you really don't find that in a guy. Everyone has secrets and the fact that he gave Keelie the space to figure everything out on her own really warms my heart. Walker's writing had me hooked from the start and what a start it was! If you've read Wrecked I highly suggest picking up Razed. I'm excited to see what's in store for the rest of the Barnes brothers.