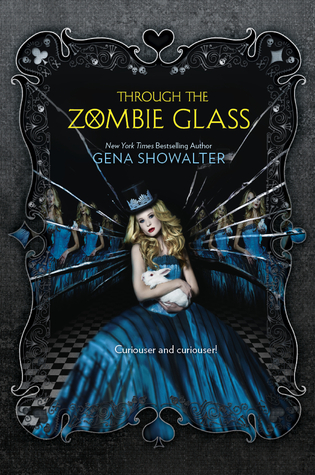 Title
: Through the Zombie Glass (White Rabbit Chronicles #2)
Author: Gena Showalter
Publication Date: September 24, 2013
Publisher: Harlequin Teen
Pages: 480
Format: Paperback
Source: Publisher/Harlequin Teen
Age Group: Young Adult
Genre: Fantasy/Paranormal
Zombies stalk the night. Forget blood and brains. These monsters hunger for human souls. Sadly, they've got mine...

Alice Bell has lost so much. Family. Friends. A home. She thought she had nothing else to give. She was wrong.

After a new zombie attack, strange things begin to happen to her. Mirrors come to life, and the whispers of the dead assault her ears. But the worst? A terrible darkness blooms inside her, urging her to do very wicked things.

She's never needed her team of zombie slayers more, but ultra bad-boy Cole Holland, the leader and her boyfriend, suddenly withdraws from her...from everyone. Now, with her best friend Kat at her side, Ali must kill the zombies, uncover Cole's secret and learn to fight the darkness.

But the clock is ticking...and if she fails at a single task, they're all doomed.
Through the Zombie Glass is action packed and full of kick ass scenes. Alice has become one of my favorite female main character. I love how strong she is. Not only physically, but emotionally and spiritually. She doesn't take no for an answer and doesn't let anything hold her back. When she is determined to do something, she will bend over backwards to make it happen. Kat has a special part in my heart. She is Alice's best friend and wing man. LOL Her personality is my favorite thing about her. She is hilarious and the love she has for Alice makes me love her even more. In all honesty, The White Rabbit Chronicles has some pretty kickass girl characters.
Through the Zombie Glass was pretty freaky. Some of the parts when Alice looked at herself in the mirror really freaked me out. I felt like she was going to lose her mind. The one thing that bothered me was when Cole tried to distance himself from Alice. I didn't understand why. We find out why towards the end, but I still didn't agree with him being like that. I still love Cole though, he is my hot zombie killer.
After reading all three books already, Through the Zombie Glass, is my favorite of the three. There is so much going on and it's the book that changes everything. I absolutely love Through the Zombie Glass and I can't wait for you all to read it and tell me what you think!