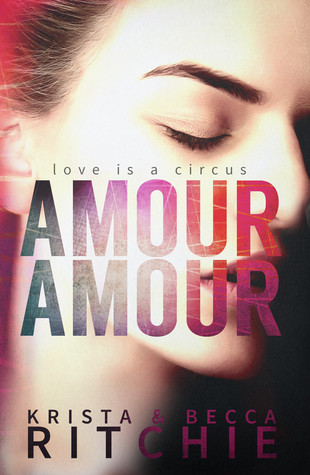 Title:
Amour Amour
Author:
Krista & Becca Ritchie
Publisher:
Krista & Becca Ritchie
Release Date:
December 12th, 2014
Format:
eBook
Source:
Bought
Age Group:
New Adult
Genre:
Contemporary
Love is a circus

"Every day," he says lowly, "I hold a person's life in my hands. The circus is based one-hundred percent off trust. I give it all to someone, and they give it all to me."
The best aerial technique won't land 21-year-old Thora James her dream role in Amour—a sexy new acrobatic show on the Vegas strip. Thora knows she's out of her element the second she meets Amour's leading performer. Confident, charming and devilishly captivating, 26-year-old Nikolai Kotova lives up to his nickname as the "God of Russia."

When Thora unknowingly walks into the crosshairs of Nikolai's after-show, her audition process begins way too soon. Unprofessional. That's what Nik calls their "non-existent" relationship. It's not like Thora can avoid him. For one, they may be partners in the future--acrobatic partners, that is. But getting closer to Nik means diving deeper into sin city and into his dizzying world.

Thora wants to perform with him, but when someone like Nikolai attracts the spotlight wherever he goes—Thora fears that she's destined to be just background to his spellbinding show.

This sexy and exhilarating New Adult Romance can best be described as Cirque du Soleil meets the steamy, athletic romance of Center Stage.

*standalone & no love triangles—recommended for readers 18+ for mature content*
You guys know how much I love Krista and Becca Ritchie right? I mean their Addicted Series is amazing and they have unforgettable characters that will always stay with you. Seriously I will forever read anything they ever publish and AMOUR AMOUR is hands down in my I-Will-Make-You-Read-This-Book-Until-You-Give-In category. I loved loved loved Amour Amour, it was just WOW, everything about this book was perfect and I cannot recommend it enough.
I like how the Ritchie's balance real life scenarios with their books. We all know that in the real world going after our dreams is the most scariest thing ever and they took us on that ride with the main character, Thora James. Their are not enough words in this world to describe how flipping amazing Thora James is; she's my new favorite character. Thora has a subtle confidence and RBF (resting bitch face) that made her stand out. Seriously I loved everything about her, when the going got tough, she didn't back down. When everything seemed impossible, Thora didn't give up. She fought for her dream of being in the show Amour and she did it with such grace that it makes me wanna join the circus too (If only I had her skills.) And don't even get me started on the rest of the characters, I loved EVERY SINGLE ONE especially Nikolai and his family.
Krista and Becca Ritchie write with heart. It amazes me how many feelings I can get in just one page; one minute I'm laughing, the other I'm crying or swooning, etc. I don't know how they do it but their books always feel so authentic and vivid. I swear the way Krista and Becca described the scenes with the aerial techniques made it seem as if they had first hand experience. K&B mentioned that they did lots of youtubing and watched documentaries but it didn't feel like that, it felt as if they were actual performers guiding us.
I was swept away while reading Amour Amour; this story has bewitched me body and soul and the next time I hear about the Cirque Du Soleil being in town, I'm so going to go.