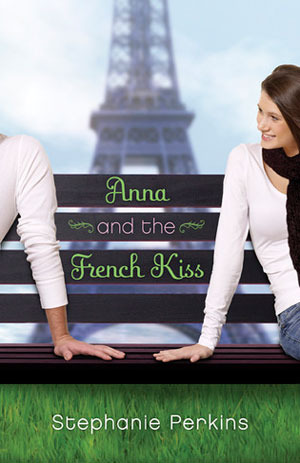 Title
: Anna and the French Kiss (Anna and the French Kiss #1)
Author: Stephanie Perkins
Publication Date: December 2, 2010
Publisher: Dutton Juvenile/Penguin
Pages: 372
Format: Hardcover
Age Group: Young Adult
Genre: Contemporary Romance


Anna is looking forward to her senior year in Atlanta, where she has a great job, a loyal best friend, and a crush on the verge of becoming more. Which is why she is less than thrilled about being shipped off to boarding school in Paris--until she meets Étienne St. Clair. Smart, charming, beautiful, Étienne has it all...including a serious girlfriend.

But in the City of Light, wishes have a way of coming true. Will a year of romantic near-misses end with their long-awaited French kiss?
Anna and the French Kiss
has to be one of the cutest books I have read in a looooooong time. My only regret is that I took so long to finally get to it. I am glad I moved it up on my TBR pile. It was so good, I couldn't put it down! I want my own Etienne now! LOL
Poor Anna, she has to spend her senior year of high school in Paris. I mean seriously? I would be bouncing off the wall with excitement if that were me. But then again, I understand why she isn't onboard with it. Her dad isn't the best dad in the world, but he feels that Anna needs to be more cultured I guess, and for that reason, he ships her off to Paris. The good thing is that this school, even though it is in Paris, it's filled with American students. Once there, Anna is now considered the "new girl," just like in any other high school, so it's going to take some time to get used to it. It doesn't take long for Anna to make friends. Then she meets St. Clair, Etienne St. Clair. Etienne with a British accent. Etienne that is hot and sweet and cute, and also very much in a relationship with someone else. Yup, he's taken. Luckily for Anna, his girlfriend doesn't go to the same school as St. Clair.
One of my favorite things about
Anna and the French Kiss
is how Stephanie describes all the places in Paris. She describes the city with such vividness that I feel like I am actually there with Anna. Let's just say that I seriously want to visit Paris now more than before.
Anna and the French Kiss
is an adorable romance. The fact that it's set in Paris is just icing on the cake. So if you are like me, and still haven't read it, I strongly suggest you do. I promise you won't regret it.