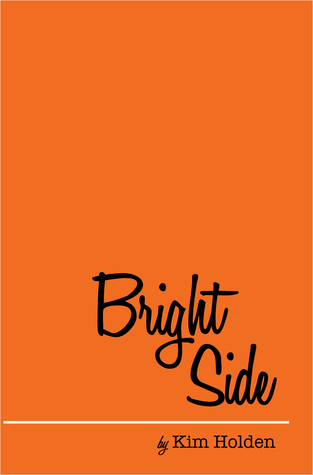 Title
: Bright Side (Bright Side #1)
Author
: Kim Holden
Publication
Date
: July 4, 2014
Pages
:
Publisher
: Do Epic LLC
Format
: E-book
Source
: Bought (recommended by Colleen Hoover)
Age
Group
: Adult
Genre
: Contemporary Romance
Secrets.

Everyone has one.

Some are bigger than others.

And when secrets are revealed,

Some will heal you ...

And some will end you.

Kate Sedgwick's life has been anything but typical. She's endured hardship and tragedy, but throughout it all she remains happy and optimistic (there's a reason her best friend Gus calls her Bright Side). Kate is strong-willed, funny, smart, and musically gifted. She's also never believed in love. So when Kate leaves San Diego to attend college in the small town of Grant, Minnesota, the last thing she expects is to fall in love with Keller Banks.

They both feel it.

But they each have a reason to fight it.

They each have a secret.

And when secrets are revealed,

Some will heal you …

And some will end you.
I first heard about this book from Colleen Hoover and then from Pam. As you all know, I am totally obsessed with Colleen. So, if Colleen recommends a book, I am already buying it! So thank you Colleen for recommending Bright Side! I didn't get to read it right away, but Pam did and she warned me, this book is going to make you cry. I mean, really really cry. Like, ugly cry. Well, she was right. Bright Side was definitely an emotional tearjerker. It's been a while since I cried like that over a book.
Bright Side is a beautiful inspirational book. I am not going to tell you so much about what the story is about because I don't want to give anything away, but I promise you that when you finish reading it, you will feel different, but in a good way. Your heart will hurt, yes, but you will feel like no matter how hard things get in your life, you always have to look at the Bright Side of things. Life is full of ugly and beautiful things and if we all focus on the ugly, we never get to truly enjoy all the good things. Bright Side will be added to my short list of books that have impacted my life in a good way. Every time I feel like life sucks, I am going to start thinking about Bright Side and know that I will be okay.
So my dear readers, if you are going through a rough patch in life, please pick up Bright Side. Yes, you will cry, but I promise you that you will make you see life a little brighter. Now go out there and get it and always remember to "Do Epic!"