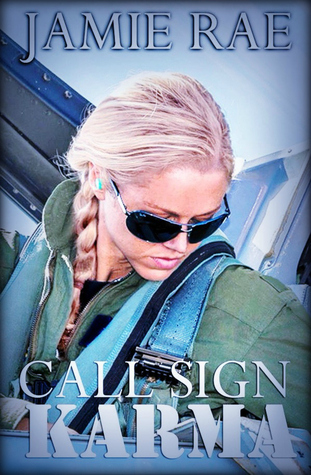 Title:
Call Sign Karma
Author:
Jamie Rae
Publisher:
Lyrical Press
Release Date:
January 5th, 2015
Pages:
270
Format:
eARC
Source:
Net Galley
Age Group:
New Adult
Genre:
Contemporary
Love in the no-fly zone…

Distraught over the loss of her brother in a fighter jet accident, Tinklee Pinkerton decides to follow in his footsteps and prove the tragedy wasn't his fault. But when she's chosen as the first woman to fly the Air Force's F-35, her plan for a life that revolves around work is thrown off course by a handsome, mysterious stranger…

Thanks to Locke's seductive British accent, sweet nature, and one too many beers, Tink is soon inspired to throw caution to the wind and herself into his arms. She thinks maybe love can heal after all—until she discovers Locke is her superior officer. Tink has no problem risking her life in the air, but with everything on the line, is she brave enough to risk her heart on the ground?
Going into this I knew I was going to be a mess because of the description and I was proven right. Call Sign Karma moved me in so many ways that I may become obsessed with all of Jamie Rae's future books.
I've never read a story about a woman serving our country or a woman flying a jet, a fighter jet. The way Jamie wrote Tink and her life had me feeling like I was the pilot; every turn Tink took, I took with her. Mark my words, Tinklee Pinkerton is going to be in the hall of fame - badass characters edition. I can't express enough how much I loved Tink and her ballsy-fierce attitude that didn't take bullshit from anyone. Her determination in clearing her brother's name from pilot error is admirable and her stubbornness is off the charts. Fyi, Tink is one of those characters that I will never forget.
And Locke, OH HOLY-BRITISH- HELL LOCKE. Ever since her brother died Tink hasn't felt anything at all, no emotions, nothing. When she meets Locke, he lights a spark in her that makes her feel like her old self. And let me tell you this, they have the most cutest-embarrassing-sexy-first meeting ever. Tink and Locke had so many ups and downs that my heart couldn't take, from start to finish their relationship was like a flame that wouldn't stop burning and I cherished every moment of it.
I love Call Sign Karma with my whole heart. I mean I stayed up till the wee hours of the morning reading and I don't regret a second of it. Jamie Rae delivers a powerful debut novel that will leaving you gasping and swooning with each new twist.