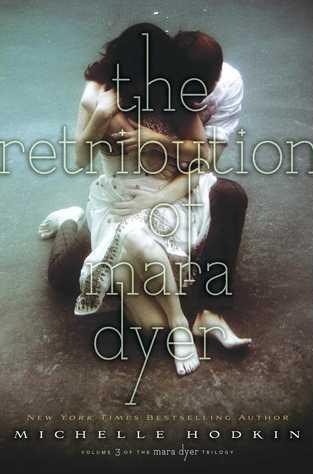 Title
: The Retribution of Mara Dyer (Mara Dyer #3)
Author
: Michelle Hodkin
Publication
Date
: November 4, 2014
Publisher
: Simon & Schuster for Young Readers
Pages
: 470
Format
: Hardcover & E-book
Source
: Bought
Age Group
: YA (adult language)
Genre
: Paranormal/suspense
Mara Dyer wants to believe there's more to the lies she's been told.

There is.

She doesn't stop to think about where her quest for the truth might lead.

She should.

She never had to imagine how far she would go for vengeance.

She will now.

Loyalties are betrayed, guilt and innocence tangle, and fate and chance collide in this shocking conclusion to Mara Dyer's story.

Retribution has arrived.
If you are a fan of the Mara Dyer series, you know how I feel about having to wait 2 years to see how everything would wrap up and FINALLY get an answer to ALLLLLLLLLLL of my 93982347042 questions. Well, I just finished reading it and yes, some were answered, but there were still some that weren't. Maybe I missed them since I was trying to read every page as fast as I could, but regardless, I still feel like it missed something. Don't get me wrong, I loved the ending, but there were a few loose ends that I feel needed tightened up. In book one, I was questioning everything. I had more questions then answers, but that was the fun of it. In book two, I got some questions answered, but for everyone that did, two new ones would come up and then that ending!! So when I started reading book 3, I figured everything would finally come together and I could finally see the big picture. Well, yeah, that didn't happen exactly. I really hope Michelle did it on purpose so she could possibly do a novela, or a spinoff series. A girl can only dream...
* * DO NOT READ FURTHER UNTIL YOU HAVE READ THE FIRST TWO BOOKS * *
One of my favorite things about the Mara Dyer series is how I questioned my own sanity. I have never read a book where I felt like I needed to seek counseling. I was constantly thinking "is she really seeing this" "does that person even exist?" Is this going to end like the show Lost or the Sopranos? I seriously think that Michelle is like a girl version of Steven King, but a lot cuter!

The one question that everyone will be asking once they start The Retribution of Mara Dyer, is Noah still alive, well, I am keeping my lips sealed. I know we all fell in love with him and if he's dead we will be totally heartbroken. And that is all I will say about that.

I found myself questioning everything and just when I thought I had it figured out, Michelle through me a curve ball. Over all, I am happy how Michelle wrapped everything up. The story could have gone in many different directions, but I am happy with the path Michelle chose. The ending is what kind of left me wanting more. Like I said, I still have unanswered questions and I really want some answers. I think this is a series that must be read more than once. I am sure that there are little clues everywhere that will give me a clearer picture. I am really considering it and if I do, this will be my first series that I re-read. So that should tell you just how much I love it.
Here is a clip from the Audio book. I am considering buying all three books in audio from Audible, so I could speed "read" them!