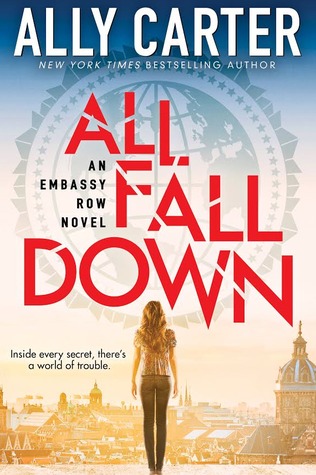 Title:
All Fall Down
Author:
Ally Carter
Publisher:
Scholastic Press
Release Date:
January 20th 2015
Pages:
320
Format:
ARC
Source:
Publisher
Age Group:
Young Adult
Genre:
Contemporary
Grace can best be described as a daredevil, an Army brat, and a rebel. She is also the only granddaughter of perhaps the most powerful ambassador in the world and Grace has spent every summer of her childhood running across the roofs of Embassy Row.




Now, at age sixteen, she's come back to stay - in order to solve the mystery of her mother's death. In the process, she uncovers an international conspiracy of unsettling proportions, and must choose her friends and watch her foes carefully if she and the world are to be saved.
I can't think of a better way to start off my year! I've been read Ally Carter books from the very beginning. I mean with a title like "I'd Tell You I Love You, But Then I'd Have To Kill You." how could I not pick up the book?! From then to now with All Fall Down I can say that Carter only gets better!
I first heard about All Fall Down from Carter herself at a signing she had in Miami. When I heard the concept for it I knew I had to get my hands on it. The way she sold it to the crowd basically had us all itching to read it. I am so glad to say that the long wait was well worth it!
I honestly don't even know how to put into words how incredible All Fall Down is. It had me on the edge of my seat with all the twist and turns yet had me cracking up with some of the secondary characters. All Fall Down is such a well rounded book. From the characters to the plot it will hold your attention until the very last page.
The one thing I can tell you about All Fall Down is to expect the unexpected. Nobody can predict what will happen with a Carter book and for that I'm forever grateful. Make sure you guys go out and get All Fall Down when it comes out. You won't regret it!