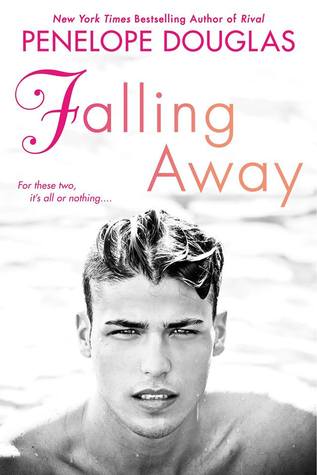 Title
: Falling Away (Fall Away #3)
Author
:
Penelope Douglas
Publication Date
: January 6, 2015
Publisher
: NAL (New American Library)
Pages
: 432
Format
: Paperback
Source
: Publisher
Age Group
: New Adult
Genre
: Contemporary Romance
Jaxon is the guy she's supposed to avoid. K.C. is the girl he won't let get away....

K. C. Carter has always followed the rules—until this year, when a mistake leaves her the talk of her college campus and her carefully arranged life comes crashing to a halt. Now she's stuck in her small hometown for the summer to complete her court-ordered community service, and to make matters worse, trouble is living right next door.

Jaxon Trent is the worst kind of temptation and exactly what K.C. was supposed to stay away from in high school. But he never forgot her. She was the one girl who wouldn't give him the time of day and the only one to ever say no. Fate has brought K.C. back into his life—except what he thought was a great twist of luck turns out to be too close for comfort. As they grow closer, he discovers that convincing K.C. to get out from her mother's shadow is hard, but revealing the darkest parts of his soul is nearly impossible.…
JAX!!!! If I said I was in love with any of the other guys from this series, please disregard those comments. Jax is my official book boyfriend! *swoons * I know I have a thing for emotionally broken guys, because I just want to love them and make them all better, and Jax is one of those guys. My poor baby has been through so much and it breaks my heart just thinking about all the things he went through. I honestly think it made him the man he is today.
I am so glad we get to hear about K.C. now. She really wasn't in the previous book, Rival, and I really missed her. So I am super excited that this is going to be her and Jax's story. These two really do deserve all the happiness they can get and a happily ever after is icing on the cake. Both K.C. and Jax had a pretty horrible childhood and are both carrying around a lot of baggage. But it's because of this baggage that they can relate to each other. Both are seeking love and acceptance. It was hard to read about the things that happened to them. It broke my heart and I want to hug them both. This world can be so cruel at times.

What I loved the most is that Falling Away shows us that no matter how bad things were in the past, it is up to us to get past it move on. We can't dwell on the past because unfortunately, we can't change it, but we can work on ourselves now, so we can have a better future. It also helps when you have someone like Jax or K.C. beside you, holding your hand and supporting you.

The epilogue in this book KILLED me! But that is all I am going to say. My lips are sealed. If you haven't started this series yet, I strongly recommend you do, because it's honestly become one of my favorites. It's real life - not perfect or sugarcoated. I can not wait for Aflame to come out already! April 21st, hurry up and get here already!!!!!!