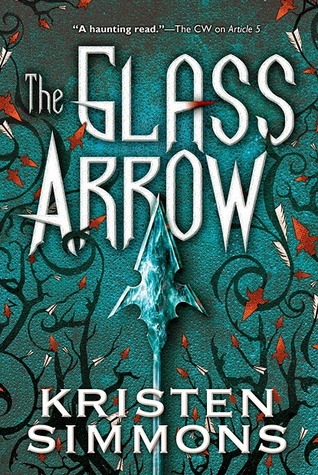 Title:
The Glass Arrow
Author:
Kristen Simmons
Publisher:
Tor Teen
Release Date:
February 10th, 2015
Pages:
336
Format:
eARC
Source:
Publisher
Age Group:
Young Adult
Genre:
Dystopia
The Handmaid's Tale meets Blood Red Road in Glass Arrow, the story of Aya, who lives with a small group of women on the run from the men who hunt them, men who want to auction off breeding rights to the highest bidder.

In a world where females are scarce and are hunted, then bought and sold at market for their breeding rights, 15-year old Aya has learned how to hide. With a ragtag bunch of other women and girls, she has successfully avoided capture and eked out a nomadic but free existence in the mountains. But when Aya's luck runs out and she's caught by a group of businessmen on a hunting expedition, fighting to survive takes on a whole new meaning.
I was hooked with the very first page of The Glass Arrow. Seriously when I saw that one word, I just knew this book was going to be epic and it was. Kristen manages to pull out every emotion in me and left me wanting more. Each new twist is a kick to my adrenaline system that had me gripping my iPad. The Glass Arrow is filled with fast-paced action that I actually had to put my phone on airplane mode so I wouldn't get disturbed.
Aya, who I love to pieces, is a headstrong female character that isn't afraid to fight for her freedom. She was captured by tracker and ever since then she's been trying to escape. She doesn't want to be used or sold just to have babies, Aya wants to command herself and her body. I was impressed by Aya's will to survive, she never once gave up; even when all seemed hopeless, she always kept trying. Aya endured so much that as a reader you feel this deep connection to her.You want her to be free of the chains surrounding the society she lives in. You want her to go to her mountains where she can be free without worrying about men who only want to procreate.
Speaking of men . . .You know if they ever invented a machine where I can travel to any fictional world? I would not go to the glass city. Nope. I mean this world Kristen created is viscous and I would probably cry if I step foot in it. Glasscaster is a society run for men, they have a say in everything. If you are a girl, you are taken by force or willingly to get groomed for an auction where you will be sold to the highest bidder. Girls have literally no rights and if you break one of their rules, you get an X carved into your cheek. Yup it's that extreme and Kristen doesn't hold back at all.
Don't you ever just wonder if a book title has meaning? As I was reading The Glass Arrow in the back of mind I was looking for clues as to why Kristen chose this title. Have no fear, you'll learn why and when you do, you'll be as enamored. In all honesty, the title fits perfectly, I loved what it represented and the way Kristen weaved it into her story is absolutely beautiful.
Kristen Simmons packs a stellar punch with her new book. If you thought Article 5 was intense, wait until you read The Glass Arrow.