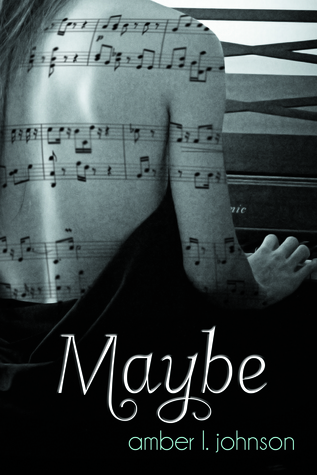 Title:
Maybe
Author:
Amber L. Johnson
Publisher:
The Writer's Coffee Shop
Release Date:
February , 2015
Pages:
226
Format:
eARC
Source:
Net Galley
Age Group:
New Adult
Genre:
Contemporary
Letting go is hard. Admitting you need each other is harder.

Emily Portman loves her job. A writer for Breakout! Magazine, she shadows and showcases up-and-coming bands. When her next assignment takes her to Austin, Texas, she can't wait to add the city to her map of places she's visited. Places she's left without looking back. Her plan is to keep moving on, and the last thing she needs is a man holding her back. She's not going down that road again.

Tyler Macy is stuck in a rut. Despite his exceptional talent as a musician, he has chosen to take a back seat with his music and let others grab the limelight. Wounded and mistrustful, he doesn't appreciate his friends' efforts to bring him back to center stage. Emily comes onto the scene and sees his full potential, but he fights to stay in the shadows, shutting her out before she can add to the scars another woman gave him.

For Tyler to find his music again, he needs to accept the help that Emily and their friends offer. When he discovers that his muse lies underneath Emily's skin, it is still not enough to keep her from walking away. Neither will admit what they really want until it is too late.

Emily is once again thrown in Tyler's path when she is assigned to join them on tour. Despite the pain in his past, Tyler sees that she is worth it, even if she's stolen both his heart and peace of mind. In order for them to be together, they both must discover whether the music and their passion are enough to overcome the obstacles that separate them.

Maybe finding love is worth the risk.
I knew that I was going to like Maybe because Amber L. Johnson wrote the sweetest dedication ever. After I read those few words, I dived into this story like there was no tomorrow.
Emily and Tyler are two characters that couldn't be more right for each other; both haven't had a not so stellar past when it comes to exes. Emily and Tyler are driven when it comes to their work and since they've been burned before they haven't been able to fully trust another partner. Well, that all changes when they meet each other. I swear their second meeting was absolutely hilarious because Emily says something insulting without knowing that Tyler is a musician and yeah it's funny when you read it. The relationship between Emily and Tyler was not an easy one, they had their ups and down like most couples do but when they decided to try and make it work, I cheered for them.
What I liked most about Maybe is the way Amber made me feel when she was describing the music life. I felt like I was apart of the tour and when Tyler would write music notes on Emily's back, gawd that was the best.
Maybe is a sweet-fast paced read that left me smiling like a fool after I read the last page.