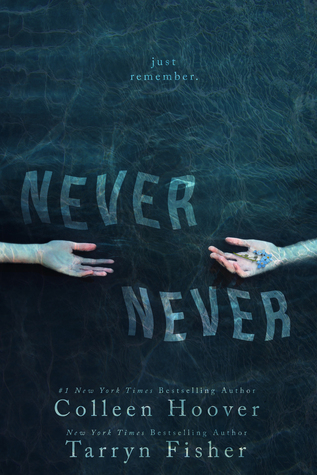 Title
: Never Never (Never Never #1)
Author
: Colleen Hoover
Publication
Date
: January 8, 2015
Publisher
: Hoover Inc.
Pages
: 140
Format
: e-book
Source
: Bought
Genre
: Paranormal
Age Group
: Young Adult
Best friends since they could walk.
In love since the age of fourteen.
Complete strangers since this morning.

He'll do anything to remember.
She'll do anything to forget.
Ummmmm, where do I even begin with this book? If you know me, you know I worship Colleen Hoover. I have read and fallen in love with every single one of her books. When I heard that she and Tarryn Fisher (which I have only heard awesome things about, but shamefully haven't read any of her books yet) were pairing up to write a book, I was like HELL YEAH! Only great things can come out of that! Unfortunately, that's as far as my love for it goes. I DID enjoy the story, but there were a few things that really bugged me about it. One, the main characters: In the beginning it was great and I was like, "oh yeah, this is really good. I want to know where this is going." Sadly, I never found out. I don't know of it's because I spent so much time trying to figure out what was going to happen that I didn't get a chance to relate to the characters. I will definitely buy the second book because I NEED to know what it going on. I have a few conspiracies, but I will have to wait and see.
Please, please don't think I didn't enjoy this book, because I really did. I just felt like it was cut right in the middle where I thought I was going to get some answers. I wonder if they would have made it into one book, my thought of it would have been different. Hopefully book 2 comes out soon, because that cliffhanger killed us!
THANK THE BOOK GODS FOR LETTING NEVER NEVER BE RELEASED EARLIER THAN EXPECTED. I was gonna stay up and read all that night because hello it's a Colleen Hoover and Tarryn Fisher book but it went live and I so devoured this book.
I just finished reading Never Never and I can't even form words. WHAT DID I JUST READ? Colleen and Tarryn managed to keep me guessing from start to finish. I feel like one of the main characters in this book.
Never Never starts off with Charlie and Silas not remembering anything. I mean they remember mundane things like how to drive but they don't know who they are, what they look like and anything that deals with themselves. Throughout the book we get bits of pieces of who they were from their friends and family members but not much and I NEEDED MUCH because I have to know who they were and how this happened to them.
Never Never will leave you so confused by the end that your going to be just as anxious as me for book 2.