This week topic is Top Ten Most Anticipated Debut Novels For 2015!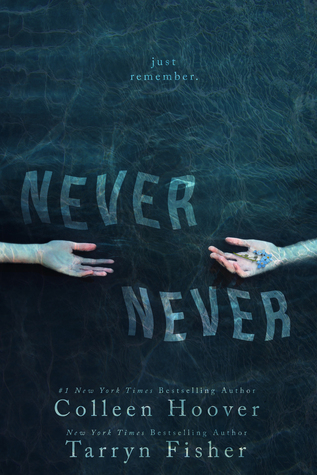 Never Never by Colleen Hoover & Tarryn Fisher
Publication Date: January 11, 2015
Best friends since they could walk. In love since the age of fourteen. Complete strangers since this morning.

He'll do anything to remember. She'll do anything to forget.
Auburn Reed has her entire life mapped out. Her goals are in sight and there's no room for mistakes. But when she walks into a Dallas art studio in search of a job, she doesn't expect to find a deep attraction to the enigmatic artist who works there, Owen Gentry.

For once, Auburn takes a risk and puts her heart in control, only to discover Owen is keeping major secrets from coming out. The magnitude of his past threatens to destroy everything important to Auburn, and the only way to get her life back on track is to cut Owen out of it.

The last thing Owen wants is to lose Auburn, but he can't seem to convince her that truth is sometimes as subjective as art. All he would have to do to save their relationship is confess. But in this case, the confession could be much more destructive than the actual sin…
A Court of Thorns and Roses (A Court of Thorns and Roses #1)
by Sarah J. Maas
Publication Date: May 5, 2015
When nineteen-year-old huntress Feyre kills a wolf in the woods, a beast-like creature arrives to demand retribution for it. Dragged to a treacherous magical land she only knows about from legends, Feyre discovers that her captor is not an animal, but Tamlin—one of the lethal, immortal faeries who once ruled their world.

As she dwells on his estate, her feelings for Tamlin transform from icy hostility into a fiery passion that burns through every lie and warning she's been told about the beautiful, dangerous world of the Fae. But an ancient, wicked shadow grows over the faerie lands, and Feyre must find a way to stop it . . . or doom Tamlin—and his world—forever.

Perfect for fans of Kristin Cashore and George R. R. Martin, this first book in a sexy and action-packed new series is impossible to put down!
The Orphan Queen (The Orphan Queen #1)
by Jodi Meadows
Publication Date: March 10, 2015
Wilhelmina has a hundred identities.

She is a princess. When the Indigo Kingdom conquered her homeland, Wilhelmina and other orphaned children of nobility were taken to Skyvale, the Indigo Kingdom's capital. Ten years later, they are the Ospreys, experts at stealth and theft. With them, Wilhelmina means to take back her throne.

She is a spy. Wil and her best friend, Melanie, infiltrate Skyvale Palace to study their foes. They assume the identities of nobles from a wraith-fallen kingdom, but enemies fill the palace, and Melanie's behavior grows suspicious. With Osprey missions becoming increasingly dangerous and their leader more unstable, Wil can't trust anyone.

She is a threat. Wraith is the toxic by-product of magic, and for a century using magic has been forbidden. Still the wraith pours across the continent, reshaping the land and animals into fresh horrors. Soon it will reach the Indigo Kingdom. Wilhelmina's magic might be the key to stopping the wraith, but if the vigilante Black Knife discovers Wil's magic, she will vanish like all the others

Jodi Meadows introduces a vivid new fantasy full of intrigue, romance, dangerous magic, and one girl's battle to reclaim her place in the world.
Red Queen (Red Queen Trilogy #1)
by Victoria Aveyard
Publication Date: February 10, 2015
The poverty stricken Reds are commoners, living under the rule of the Silvers, elite warriors with god-like powers.

To Mare Barrow, a 17-year-old Red girl from The Stilts, it looks like nothing will ever change.

Mare finds herself working in the Silver Palace, at the centre of

those she hates the most. She quickly discovers that, despite her red blood, she possesses a deadly power of her own. One that threatens to destroy Silver control.

But power is a dangerous game. And in this world divided by blood, who will win?
Every Last Breath (The Dark Elements #3)
by Jennifer L. Armentrout
Publication Date: July 28, 2015
The third and final book in the Dark Elements series.
The Ruby Circle (Bloodlines #6)
by Richelle Mead
Publication Date: February 10, 2015
The epic conclusion to Richelle Mead's New York Times bestselling Bloodlines series is finally here...

Sydney Sage is an Alchemist, one of a group of humans who dabble in magic and serve to bridge the worlds of humans and vampires. They protect vampire secrets—and human lives.

After their secret romance is exposed, Sydney and Adrian find themselves facing the wrath of both the Alchemists and the Moroi in this electrifying conclusion to Richelle Mead's New York Times bestselling Bloodlines series. When the life of someone they both love is put on the line, Sydney risks everything to hunt down a deadly former nemesis. Meanwhile, Adrian becomes enmeshed in a puzzle that could hold the key to a shocking secret about spirit magic, a secret that could shake the entire Moroi world.
Torn (A Wicked Saga #2)
by Jennifer L. Armentrout
Publication Date: 2015
The Remedy (The Program 0.5)
by Suzanne Young
In a world before The Program…




Quinlan McKee is a closer. Since the age of seven, Quinn has held the responsibility of providing closure to grieving families with a special skill—she can "become" anyone.

Recommended by grief counselors, Quinn is hired by families to take on the short-term role of a deceased loved one between the ages of fifteen and twenty. She's not an exact copy, of course, but she wears their clothes and changes her hair, studies them through pictures and videos, and soon, Quinn can act like them, smell like them, and be them for all intents and purposes. But to do her job successfully, she can't get attached.

Now seventeen, Quinn is deft at recreating herself, sometimes confusing her own past with those of the people she's portrayed. When she's given her longest assignment, playing the role of Catalina Barnes, Quinn begins to bond with the deceased girl's boyfriend. But that's only the beginning of the complications, especially when Quinn finds out the truth about Catalina's death. And the epidemic it could start.
by J. Lynn, Jennifer L. Armentrout
Publication Date: March 31, 2015
Eleven months ago, bartender and weird-shirt-wearing extraordinaire Roxy and Officer Reece Anders had a one night stand. Well, kind of. She's been in love with him since she was fifteen, and he wishes that night they shared never happened. She's sworn him off forever, but the past and future collide, forcing her to rely on the one man who broke her heart not once, but twice.

Her best friend since birth has been in a long-term care facility since he became a victim of a hate crime years ago, and the person who put him in there is out of prison and wanting to make amends with him and Roxy. She's not sure she has room for forgiveness in her and when she begins to receive frightening messages and is on the receiving end of escalating violence, she thinks she knows who is to blame. The man who already destroyed one life already.

But Reece isn't convinced. The threats are too personal, and even if Roxy doesn't believe him, he's not willing to let anyone hurt her. Including himself. He's already messed up more than once when it comes to Roxy and he's not going to let history repeat itself.