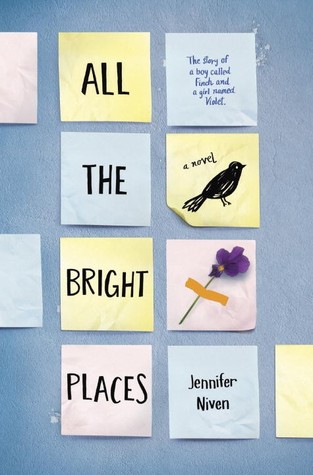 Title
: All the Bright Places
Author
: Jennifer Niven
Publication
Date: January 6, 2015
Publisher
: Knopf/Random House Children's Books
Pages
:
Format
: Hardcover
Source
: Bought
Age Group
: Young Adult
Genre
: Contemporary
The Fault in Our Stars meets Eleanor and Park in this exhilarating and heart-wrenching love story about a girl who learns to live from a boy who intends to die.

Soon to be a major motion picture starring Elle Fanning!

Theodore Finch is fascinated by death, and he constantly thinks of ways he might kill himself. But each time, something good, no matter how small, stops him.

Violet Markey lives for the future, counting the days until graduation, when she can escape her Indiana town and her aching grief in the wake of her sister's recent death.

When Finch and Violet meet on the ledge of the bell tower at school, it's unclear who saves whom. And when they pair up on a project to discover the "natural wonders" of their state, both Finch and Violet make more important discoveries: It's only with Violet that Finch can be himself—a weird, funny, live-out-loud guy who's not such a freak after all. And it's only with Finch that Violet can forget to count away the days and start living them. But as Violet's world grows, Finch's begins to shrink.
Going into All the Bright Places, I somewhat knew I was going to get my heart broken. To say that it broke my heart is an understatement. The last time a book made me feel this way was after I finished reading Bright Side by Kim Holden. I finished reading it last night at 2:00 a.m. and I haven't stopped thinking about it. Finch and Violet, the main two characters, will forever hold a special place in my heart. These two are characters that I will think about days, weeks and months from now and when I do, I will still shed a tear or two.
Finch and Violet couldn't be more different, yet so much alike. Finch is the "freak" of the school. He's been bullied since he was a little kid. Violet's sister died a year ago and Violet hasn't been able to get over it. She was the one driving the car that crashed and killed her sister. It wasn't Violet's fault, but she is suffering from survivor's guilt. Finch and Violet meet under some "tricky" circumstances.
The story is told in both Violet and Finch's point of view, which is great because we get to see what each character is thinking. My favorite was reading in Finch's POV. Even though at times it was difficult to because of his way of seeing things. He's so different, but in a good way. I love Finch.
Is All the Bright Places sad? In my opinion, yes, but there is also a message that Jennifer is trying to share with her readers, and I heard it loud and clear. Thank you for writing such a heart shattering yet beautiful story. It will make you appreciate and truly treasure life. It will also make you realize that not all people wear their emotions on their sleeves. Some keep things deep inside and even the people closest to them, don't always know that they are hiding so much pain. To all of you that haven't read this this amazing story about life and raw emotions, Please go out and get it. I promise you that it will make you look at life differently.