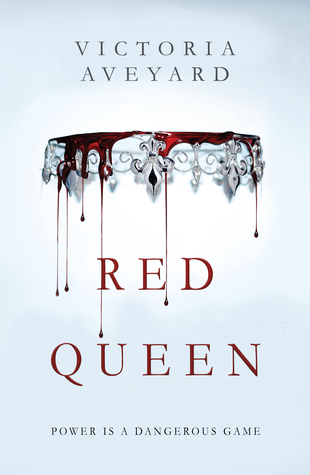 Title
: Red Queen (Red Queen Trilogy #1)
Author: Victoria Aveyard
Publication Date: March 26, 2015
Publisher: HarperTeen
Pages: 320
Format: E-book/ARC
Source: Publisher/Edelweiss
Age Group: Young Adult
Genre: Fantasy
A thrilling new fantasy trilogy for fans of DIVERGENT and THE HUNGER GAMES.

The poverty stricken Reds are commoners, living under the rule of the Silvers, elite warriors with god-like powers.

To Mare Barrow, a 17-year-old Red girl from The Stilts, it looks like nothing will ever change.

Mare finds herself working in the Silver Palace, at the centre of

those she hates the most. She quickly discovers that, despite her red blood, she possesses a deadly power of her own. One that threatens to destroy Silver control.

But power is a dangerous game. And in this world divided by blood, who will win?
I have a confession to make; I judge books by their cover. *hands over face* I am pretty sure I am NOT the ONLY one that does that too. When I first saw the cover to Red Queen, I knew I had to get my hands on it. So then when I read the description, I knew I had to figure out a way to make it happen because I was was going to DIE if I didn't read it soon.
I am in such a fantasy reading mood now-a-days and this book really gave me what I needed. I can't really describe what the book is about other then it's a blend of Divergent meets Gladiator, The Hunger Games and X-Men. Yeah, that's a pretty cool combo. It also reminded me slightly of The Jewel by Amy Ewig, which I loved! It is very unique and it grabbed me from the very beginning and I couldn't stop thinking about it days after reading the last page. Needless to say, this book totally rocked!
This world was divided by white or red blood. They actually bleed white or red blood. The red bloods were poor and were the ones that worked and kept society running. The white bloods, were the wealthy and the royal family. The reds were shipped off to fight a war that people believed would never end and was not worth fighting for. The white bloods, would just dictate from afar and had no real clue what was really happening on the front line. But in like every "controlled" world like that, there are rebels. These rebels want to fight for their freedom and for the all the red lives that have been lost.
I loved the characters. Each one was important and Mare, of course, was my favorite. She was born a red and of course in poverty. One night, she meets a stranger and luckily, or unluckily for her, she lands a job at the royal palace. During a "gladiator" arena battle, Mare finds out she isn't just a regular red. She will also learn how things aren't always what they seem to be and the people you feel like you can trust, are the first ones to throw you in the fire for their gain and power.
I know people are really against love triangles, but I really didn't see the love interests as that per say. You know from the very beginning who Mare favors and how the other is just expected of her. I can not wait for this book to come out to buy. I LOVE the cover and as you all know, I am a sucker for awesome covers. LOL So my fellow owls, please go and pre-order Red Queen. You will be glad you did!