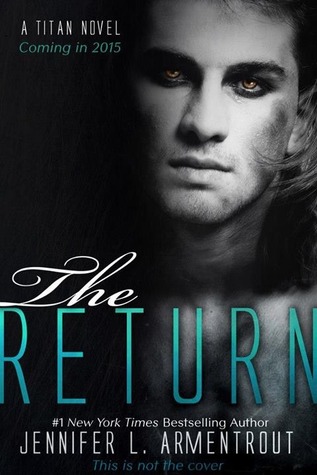 Title
: The Return (Titan #1)
Author
: Jennifer L. Armentrout
Pages
: 335
Publication
Date: February 17, 2015
Publisher
: Spencerhill Press
Format
: Paperback
Source
: ARC (BEA)
Age Group
: New Adult
Genre
: Fantasy/Mythology
It's been a year since Seth made the deal with the gods that pledged his life to them. And so far, the jobs they've given him have been violent and bloody – which is kind of all right with him. But now Apollo has something else in mind for Seth. He's got to play protector while keeping his hands and fingers off, and for someone who really has a problem with restraint, this new assignment might be the most challenging yet.

Josie has no idea what this crazy hot guy's deal might be, but it's a good bet that his arrival means the new life she started after leaving home is about to be thrown into an Olympian-sized blender turned up to "puree". Either Josie is going insane or a nightmare straight out of an ancient myth is gunning for her.

But it might be the unlikely attraction simmering between her and the golden-eyed, secret-keeping Seth that may prove to be the most dangerous thing of all.

Book 1 in the new adult paranormal TITAN series, spin-off to the best selling COVENANT series.

Seth's Story.
WARNING: IF YOU HAVEN'T READ THE COVENANT SERIES YET, THIS REVIEW WILL SPOIL IT FOR YOU. READ AT YOUR OWN RISK.
After the way that Sentinel ended (the last book in the Covenant series), I needed more Seth. I won't say much about what happens at the end of Sentinel because it would spoil the whole series, but I will say that Seth has a special place in my heart. When I found out that Seth was getting his own story, nonetheless a New Adult book, I knew I had to do whatever it took to get my hands on that book. Luckily for me, they had ARCs at BEA and I made sure I got a copy. That was the first book I read after BEA and OMG, it was AMAZING!
My poor baby Seth has been through hell and back, literally. After all that went down in Sentinel and his deal with Apolo, Seth just isn't the same any more.
Josie is pretty much thrown into this world that she never in her wildest dreams knew existed. But luckily for her, she has Seth by her side, Honestly, I would switch spots with her in a heart beat just to be able to have Seth by my side, just saying. Josie is a mortal, well kinda. You have to read the book to find out more because, it's a major spoiler. In the beginning, I didn't really feel Josie. She felt a little weak to me, but after reading more, she started to grown on me and I actually saw her character develop more, and now I see that maybe JLA did it on purpose.
If you haven't read the Covenant series yet, I strongly suggest you do. Especially if you plan on reading The Return. Even though this is only the first book in the series, I can tell you already that it is going to be one of my favorites. Which also helps that JLA wrote it. ;) You all know how much we lover her here. So, when you get a chance, make sure you add The Return to your calendar. I know it's expected release date is in February 2015, but believe me, it is well worth the wait.