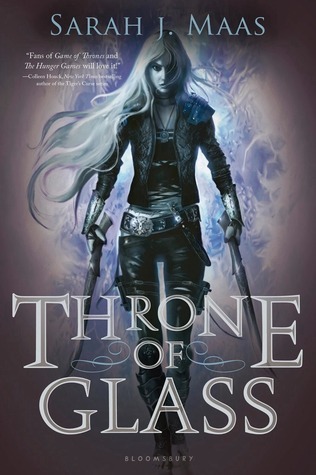 Title: Throne of Glass (Throne of Glass #1)
Author: Sarah J. Maas
Publication Date: August 7, 2012
Publisher: Bloomsbury
Pages: 416
Format: ebook/paperback
Source: bought
Age Group: Young Adult
Genre: Fantasy
In a land without magic, where the king rules with an iron hand, an assassin is summoned to the castle. She comes not to kill the king, but to win her freedom. If she defeats twenty-three killers, thieves, and warriors in a competition, she is released from prison to serve as the king's champion. Her name is Celaena Sardothien.

The Crown Prince will provoke her. The Captain of the Guard will protect her. But something evil dwells in the castle of glass--and it's there to kill. When her competitors start dying one by one, Celaena's fight for freedom becomes a fight for survival, and a desperate quest to root out the evil before it destroys her world.
Wow, that was so different from what I am used to in a high fantasy book! I LOVED IT! I am so glad that the main female character, Celaena was such a badass! I think we need more kickass heroines like Celaena. She was tough and yet gentle, not what you would think of an assassin.
All the characters played an important role in the whole story. There are several mysteries in Throne of Glass and honestly, I couldn't figure them all out. Believe me, that's a good thing. I like to be surprised. If you read carefully and pay attention to the little details, you can figure some of them out. You can't trust anyone in (kingdom), especially when you are an assassin fighting to be the King's Champion.
There is one little itty bitty thing that bothered me about Throne of Glass and that it's narrated in third person. To me, third person narratives, don't make the characters feel so personal, but Sarah didn't make it difficult for me to instantly relate to the characters and make the story that much more real.
I am so glad I decided to finally start reading this series. I can not wait to start Crown of Midnight!
Favorite Quotes
He saw her face each time he closed his eyes. She haunted his thoughts, made him wish to do grand and wonderful things in her name, made him want to be a man who deserved to wear a crown.
Pg. 339
Freedom or death lay at this table. Her past and future were seated on a glass throne.
Pg. 345
He was done with politics and intrigue. He loved her, and no empire, no king, and no earthly fear would keep him from her. No, if they tried to take her from him, he's rip the world apart with his bare hands. And for some reason, that didn't terrify him.
Pg. 371
How about you? Have you read Throne of Glass yet? If so, let me know what you think!