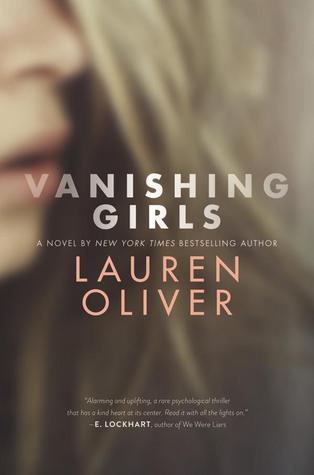 Title:
Vanishing Girls
Author:
Lauren Oliver
Publisher:
HarperCollins
Release Date:
March 10th 2015
Pages:
368
Format:
eARC
Source:
Edelweiss
Age Group:
Young Adult
Genre:
Contemporary
New York Times bestselling author Lauren Oliver delivers a gripping story about two sisters inexorably altered by a terrible accident.




Dara and Nick used to be inseparable, but that was before the accident that left Dara's beautiful face scarred and the two sisters totally estranged. When Dara vanishes on her birthday, Nick thinks Dara is just playing around. But another girl, nine-year-old Madeline Snow, has vanished, too, and Nick becomes increasingly convinced that the two disappearances are linked. Now Nick has to find her sister, before it's too late.




In this edgy and compelling novel, Lauren Oliver creates a world of intrigue, loss, and suspicion as two sisters search to find themselves, and each other.
I was Christmas shopping when I got the wonderful news that I was approved for Vanishing Girls. So of course I wanted to head home right away but since I couldn't I made the best of the time by counting down the hours and I only waited 3 hours till I was in my bed starting this soul-crunching book.
HOLY HELL WHAT DID I JUST FINISH READING? My mind has been officially blown, I'm still struggling to get my thoughts in order. Vanishing Girls just shattered everything I knew and left me a crumbling mess. THIS IS WHY I HAVE TRUST ISSUES WITH AUTHORS. Lauren Oliver has done the unthinkable, this is without a doubt my favorite book of hers.
Lauren Oliver's writing always manages to captivate me until I'm done with the last page. There's just something special and suspenseful that she does that makes me want to know every little detail. And in this case the mystery surrounding the before and after of Dara and Nick. I like how this story was told through both sisters; we get a better understanding of how they were together and how their lives were apart. It's crazy how two sisters can be so different and Lauren did such a good job separating their differences but at the same times they were best friends and this story was just so good I didn't want it to end.
Vanishing Girls is like no other book I have ever read. Lauren Oliver takes us on a wild adventure that left me using a box of Kleenex by the end.