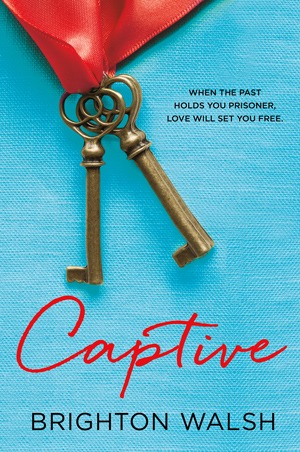 Title: Captive (Captive #1)
Author: Brighton Walsh
Publication Date: March 24, 2015
Publisher: St. Martin's Griffin
Pages: 288
Format: E-book ARC
Source: Publisher
Age Group: New Adult
Genre: Contemporary Romance
He's the most dangerous man she's ever met…and she's falling in love with him.

Madison Frost is desperate to escape her life. Daughter of a prominent businessman, she has everything a girl could ask for. Except for a family who's present in her life, and anyone to talk to outside the four walls of the prison she calls home. Madison dreams of one day leaving her life behind. She never thought being kidnapped is how it would happen.

Now she's being held captive by a man who's as frightening as he is sinfully gorgeous. Enormous, muscular, and filled with secrets, the man they call Ghost is an enigmatic mercenary, and Madison is trapped with him. She doesn't know who hired him or why, but the more time she spends at his mercy, the more she realizes he's not what he seems. Beneath his rough exterior lies an unexpected gentleness and a heart as broken and battered as her own.

But as Madison lets down her walls, Ghost holds tight to his, hiding secrets that could destroy everything.
Brighton Walsh has a new book? Yes please! Anything this lady writes is going to get devoured by me! Brighton has definitely become a auto read/buy for me. I fell in love with her since Caged in Winter and, after reading Tessa Ever After and Captive back to back, I think I love her even more!
Captive isn't your typical love story. At first I was a little skeptical about it because how can someone fall for their kidnapper? Well, if the kidnapper is Ghost, I can totally see how! Ghost is hot, I mean REALLY hot. Yes, he is a "criminal" and has done lots of "illegal" stuff, kidnapping one of them, but he also has a heart. Yes, criminals can have a heart too. There is a reason why he does what he does. But after this kidnapping, Ghost starts to evaluate his life and starts to question himself.
20 year Madison is a college student who lives at home with her parents. She is surrounded by luxury and expensive things. Her father is a predominate businessman in Chicago and has always given her everything she needs, well, except his company. He is a workaholic and has always picked business meetings and clients over his family. Madison's mother is an alcoholic who only cares about drinking to the point of passing out. She is putting her life on hold because she knows that no one would take care of her mother if she wasn't there.
Then one day as Madison is walking back from class, she is captured and when she wakes up, she finds herself in a cabin in the middle of nowhere. Who would do this to her? Why would someone want to hurt her? When she finally meets Ghost she realizes he doesn't fit the "kidnapper type." He's tough, yes, but deep down, Madison sees something else, a soft side maybe. After a few days being trapped in the cabin together, Madison and Ghost both tell things about each other that they have never shared with anyone else. The story is told in dual perspective which I love because I get to be in both character's heads and I get to experience everything through their eyes. Then with an unexpected turn of events, Ghost becomes the protector and will do anything he can to keep Madison safe.
I loved Capture from beginning to end. Once I started reading it, I couldn't stop. It was perfect and I loved every minute of it. And that ending, WOW, I was so not expecting that twist. So if you are in the mood for a fast paced, unexpected romance with an unforeen twist, Captive if the book for you! Make sure you pick up your copy today!