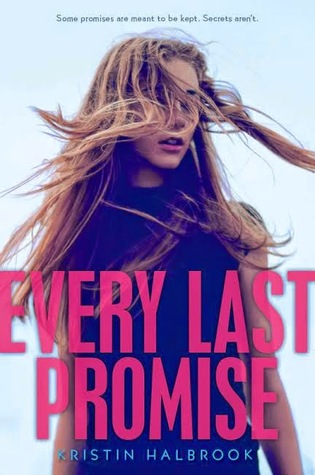 Title:
Every Last Promise
Author:
Kristin Halbrook
Publisher:
Harper Teen
Release Date:
April 21st 2015
Pages:
288
Format:
eARC
Source:
Edelweiss
Age Group:
Young Adult
Genre:
Contemporary
Perfect for fans of Laurie Halse Anderson and Gayle Forman, Every Last Promise is a provocative and emotional novel about a girl who must decide between keeping quiet and speaking up after witnessing a classmate's sexual assault.

Kayla saw something at the party that she wasn't supposed to. But she hasn't told anyone. No one knows the real story about what happened that night—about why Kayla was driving the car that ran into a ditch after the party, about what she saw in the hours leading up to the accident, and about the promise she made to her friend Bean before she left for the summer.

Now Kayla's coming home for her senior year. If Kayla keeps quiet, she might be able to get her old life back. If she tells the truth, she risks losing everything—and everyone—she ever cared about.
Every Last Promise is told in past and present tense giving us an insight into the things that lead up to that night and after. I liked that we got to see how Kayla was back then versus how she is now. Back then Kayla had a certain view of her beloved town and friends but now not everything is as it seems. She sees things in a new light and she has trouble adjusting because she just wants everything to go back to normal. I have to give it to Kayla, she never once backed down, even when people were throwing insults at her.Yes, it hurt Kayla but in her mind she figured she deserved them for what happened that night; she witnessed someone get sexually abused.
Secrets have a way of catching up to us. They caught up to Kayla and she had a hard time doing the right thing. I didn't like watching her struggling because in my mind how could you not tell someone what you witnessed. There were times when I wanted to shake some sense into her just so could she could speak up. And throughout the book I was left wondering if she would or wouldn't.
After reading the author's note I see this book in a whole new light. Sometimes people are scared to speak up because of getting shunned or worse. But Kristin took her time with this story and Kayla evolved in such a way that makes it realistic.
Every Last Promise is one of those books that will stick with you days after reading it.