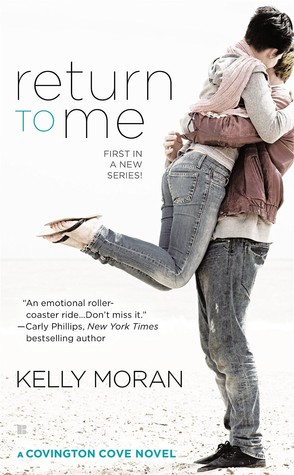 Title: Return to Me (Covington Cove #1)
Author: Kelly Moran
Publication Date: March 3, 2015
Publisher: Berkley Romance
Pages: 304
Format: Paperback
Source: Publisher
Age Group: New Adult
Genre: Contemporary Romance
With every beat of the heart comes a memory of what could have been…

Ten years ago, Cole Covington was just another rich kid who got everything he wanted—including young and trusting Mia Galdon. Then one night everything changed, and two hearts were shattered. Cole buried his guilt in the military, where love was just part of the past. Now Cole has come back home, emotionally damaged, guarded, and unprepared for what's waiting for him…

At the urging of Cole's sister, Mia has returned to the Covington family's coastal home in Wilmington as a private nurse to help Cole recover. With her uncertain personal life at a crossroad, Mia doesn't have the luxury of saying no to the job. And she soon finds out that the attraction is still alive. So are memories of betrayal. But Mia will discover more than the power of resilience. She'll discover a secret Cole has held for years, one that will force them to confront the past and give new meaning to letting go, forgiveness, and a future worth fighting for.
What a breath of fresh air! Return to Me is a sweet love story about second chances and first loves. I absolutely love this story! Once I started reading it, I just couldn't put it down. Although it was a little predictable, it was such a great read.
It's been 10 years since Cole and Mia last saw each other and things didn't end well. They were both really young, but you never forget your first love, especially when they were your first and ONLY love. Cole joined the military to get away from his parents after a terrible tragedy that he blamed himself for. Even though it wasn't his fault, Cole still felt guilty. When he gets back from his tour over seas, he isn't himself. He is suffering from PTSD and is refusing help. Cole has thrown out all the nurses that have come to help him and his sister, Lacey, the only family member he still keeps in contact with, is really running out of options. That is until Lacey comes out with a plan to get Mia back into the house and the guy that broke her heart.
Mia is a nurse who is struggling to make ends meet. She has a sister who has downs syndrome and needs special care and schooling. Her bills are piling up and she will no longer afford to keep her little sister in her school. So when Mia receives a call from Lacey, who she hasn't spoken to or seen in years, and tells her what is going on with Cole and how she is the only one that can help him, Mia is really stuck. She needs the money, but she doesn't want to see Cole after what happened between them all those years. But Mia has no other choice.

The chemistry between Cole and Mia is definitely there. I love how Mia was stern with Cole and stood her ground. He is stubborn and normally wouldn't listen to anyone, so it wasn't very easy. Ms. Moran did a great job by going back in time to show us what happened between them 10 years ago. And if you think you loved Cole and Mia as adults, wait until you see them as teens who are madly in love with one another. So sweet and special. I really loved that.
I truly enjoyed reading Return to Me, it was such a great story. I can't wait to read book 2, All of Me, which releases on September 1, 2015!